How to Build Log Stairs in Your Home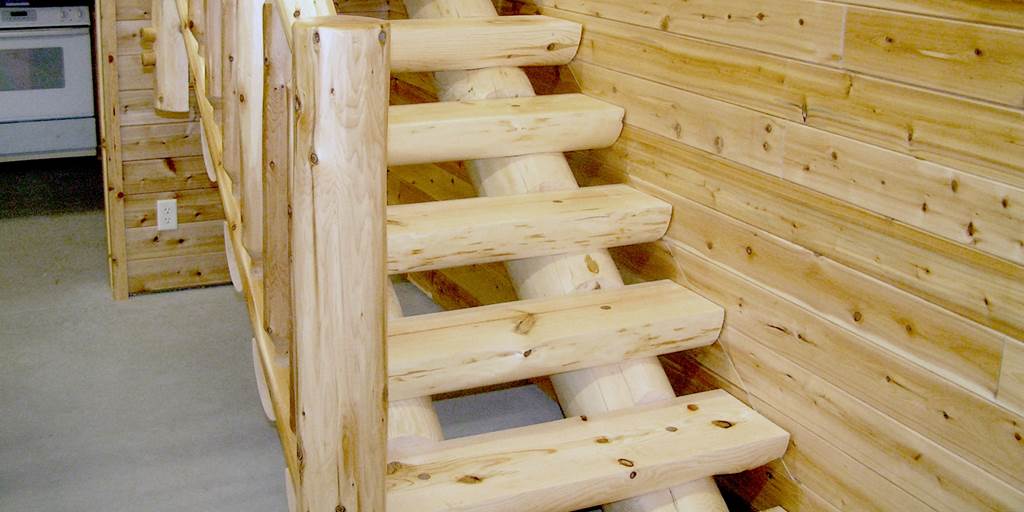 Log stairs can be a simple, yet eye-catching addition to any log home. While there are many different types of staircase styles you can choose from, the most common design is an open tread staircase made with halved logs. Follow these step-by-step instructions to learn how to build a half-log stairs.
1. Measure the Space
Prior to building your staircase, you'll need to measure the space your staircase will occupy. You'll need to measure the:
Rise (Height between the lower floor and the next floor)
Run (How far your staircase can come away from the wall)
Width (How wide your staircase can be)
2. Gather the Materials
To complete your staircase, you'll need the following materials:
A pair of stringers
Treads
Lag bolts
The number of treads you have will depend on the rise and run of your space. The tools you'll need to build you staircase include:
Power drill
Hammer
Tape Measure
Leveler
3. Prepare Your Stringers
Your stringers will want to be the length of from the top floor opening forward to where your last step will land (Northern Log can do this for you). From there, you'll need to prepare your stringers for mounting. You'll need to calculate the length and depth of your steps (about 7 to 8 inches is average). Using these measurements, you can draw out and cut each of your slots down the stringer (again, Northern Log can do this for you).
4. Install the Stringers
Attach the two stringers to the wall. Make sure they are equal distances apart at both the top and bottom of the staircase.
5. Predrill the Treads
Your treads should be in relation to the width of your staircase. Predrill the treads for easy installation. You'll want to create holes on each side of the treads where you'll anchor them to the stringers.
6. Place the Treads
Next, put the tread on the stringers. Make sure the tread is level before you anchor it to the stringers. Fasten the tread to the stringer with a lag that goes through the tread and into the stringer.
Staircases from Northern Log Supply
Northern Log manufactures half-log staircases customized to your dimensions. Our standard staircase is 48 inches long, but we can cut the treads to any specific size. Most of our interior staircases are made with pine, sourced from the woods of Michigan, but we can also manufacture your staircase in white cedar upon special request. Orders typically take about 3-4 weeks to complete, with the option of having them pre-finished or pre-stained for easy installation without the mess. Complete your staircase with cedar log railing, hickory spindle railing, or one of our many other railing designs. If you have any questions, or would like to place an order, please don't hesitate to contact us. Our friendly staff will be happy to assist you!