You Can Trust in Our Expert Craftsmen to Help You Build Log and Timber Trusses That Bring Your Design to Life
Choose from rough-sawn or smooth logs or timbers for your beams, and then choose from a variety of timber truss connection plates, including steel gusset plates with hidden connections.
Complete your project with our pre-finishing stain to make installation a breeze. Once you've contacted us and placed your order, your prefabricated log trusses will arrive at your site ready for installation. From design to build to installation, we can handle it all!
Request a Quote
Timber Truss Features
Custom-built to your project specs

Stamped and sealed drawings, upon request

Variety of timber truss styles to meet any design needs

Log trusses available

Residential or commercial applications

Pre-finishing available
Wood Options
White Pine
Red Cedar
Douglas Fir
Glu-lam
Types of Timber Trusses
A timber or log truss can instantly make any space look larger and add a decorative touch to any space. With multiple styles and a variety of customizable options to choose from, Northern Wood Supply makes sure that whatever your vision is— we have the right truss for you.
See the list below to discover which type of truss is right for your next project. Please note that all designs are available smooth or rough-sawn:
Scissor Truss

A scissor truss, sometimes referred to as a vaulted ceiling truss, is a popular style of log or timber truss. It is created when two bottom truss beams cross each other, connecting to the angled top beams. The appearance is similar to an opened pair of scissors.

Queen Post Truss

While a king post truss uses one central supporting post down the middle, the queen post truss uses two, creating an open area in the middle of the truss. A huge advantage of a queen post truss is that it can span longer openings than a king post truss.

King Post Truss

A king post truss, or turkey track truss, is built with two principal rafters, a tie beam, a central vertical post, and two struts. The central vertical post is what gives the king post truss its triangle shape. For added support, one strut is placed at a 45° angle on each side.

Hammer Beam Truss

The hammer beam truss design comes from the old-style cathedrals. Rather than using one log to span the entire length of a room, it uses short beams, or hammer beams, projecting from the wall. Additional hammer posts are built on top to support the rafters, creating an overall decorative look.

Arch Truss

Think of an arch bottom truss like a king post truss, only taken up a notch. While the overall truss design concept remains the same, the bottom beam is curved, or arched, for a more decorative look.

Custom Built Trusses

From truss design to installation, the expert craftsmen at Northern Log Supply will work with you to build custom log and timber trusses. Our wood trusses come pre-engineered to your specifications and delivered to your site. Choose from smooth or rough-sawn logs or timbers. All of our trusses are available in any of our pre-finishing wood stain colors, but we can also custom-match colors to meet your specifications. We also offer a variety of truss connections like steel gusset plates and hidden connectors. Contact us todayto discuss your truss design requirements.
Connections
We offer a variety of timber truss connections.
Steel plates / concealed plate
Hidden connections
Mortise and tenon joinery
Stain Options
Our experts can help you choose a stain or finish that has all the properties necessary to protect and preserve your log and timber trusses from moisture, UV rays, insects, mildew and fungus.
We carry several high-quality lines of stains for interior and exterior use. For a personal recommendation, contact us or request a sample today.
THE ADVANTAGES OF PREFINISHING AND PRE-STAINING WOOD PRODUCTS
Most clients save more than 50% over contractor staining post-installation
All finishing and staining is done on-site at our location in Michigan
Our automated sprayers produce a smoother, more evenly coated finish
Prefinishing and pre-staining avoids weather and humidity delays
Exterior products are sealed on all four sides for maximum protection
We back brush all stains to ensure uniformity with the wood grain
Our borate treatment helps deter bugs and mildew
Complete your project faster and with a professional finish
Watch Our Videos
to Learn More About Our Products
Building Gable Roof Trusses
Truss Types & Ordering Process
related

Blog Posts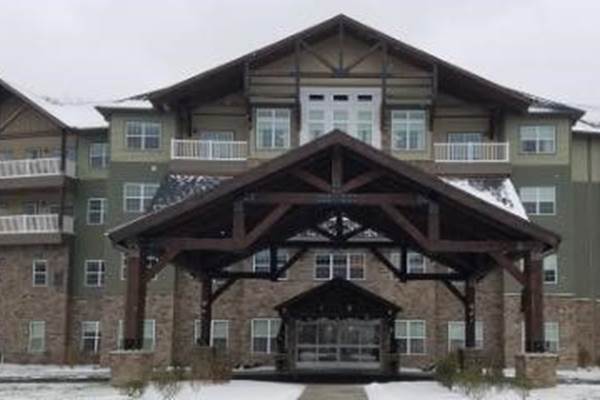 Log and timber trusses are an eye-catching design element with interior or exterior applications. Find out which truss design is right for you!
Subscribe to our Newsletter
Receive updates on our latest projects and expert advice and design inspiration from the Log Looks blog.