Log Home vs Timber Frame: What's the Difference?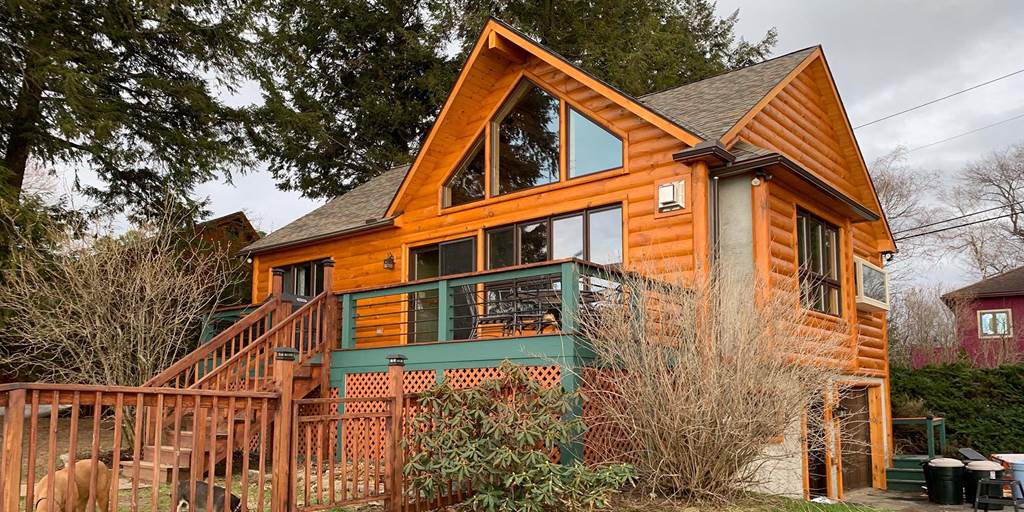 There are two main styles of log homes: full log home and timber frame home. Think of these two styles as cousins—similar as in they're both in the log home family, but different in build and appearance. As you start to design your dream log home, understand what these two different styles of log homes can offer.
What is a Full Log Home?
With a full log home, what you see on the outside is what you're going to see on the inside. Full-log homes are made by stacking logs horizontally to form the exterior and interior walls. Logs can either be hewn into rectangular shapes and fitted with chinking in between or the logs can be fully scribed. Fully scribed logs must be individually fitted as the structure is being built. While they don't require chinking, if you like the rustic look, you can apply it after the logs have all been fitted in place. Any chinking that is exposed may need reapplication or sealants to protect the material
What is a Timber Frame Home?
The largest difference between timber frame homes and other log homes is the flexibility of design.. Where log cabins are comprised of horizontal stacked logs, timber frames are post-and-beam homes. These homes require a timber framework (or skeleton) of vertical posts supporting horizontal beams using mortise and tenon joints to connect the wood together. This interlocking frame supports the weight of the home, eliminating the need for load-bearing interior walls, and creating wide-open living spaces.
Rather than logs, many builders will use structural insulated panels to create the fill between the timber framework. This allows for better energy efficiency and greater flexibility with the interior and exterior design of the home. By using insulated panels, you can then apply different types of siding or paneling to the interior and exterior of your home. For example, a homeowner may choose to install half-log siding to the exterior of their home for a full log look at half the price, and install barn wood siding to the inside of the home for rustic charm on the inside.
Building Your Log Home
As you start to build your dream log home, you'll have a lot to consider. Timber frame or a full log home? Pine or cedar log siding? Butt and pass or saddle notch corners? From selecting your dream log home design to selecting the wood to choosing the right trim, Northern Log Supply is here to help with all your log home needs. We can even help with installation! Contact us today for advice on selecting the right wood, finish, and features for your home.