The Benefits of Building with White Pine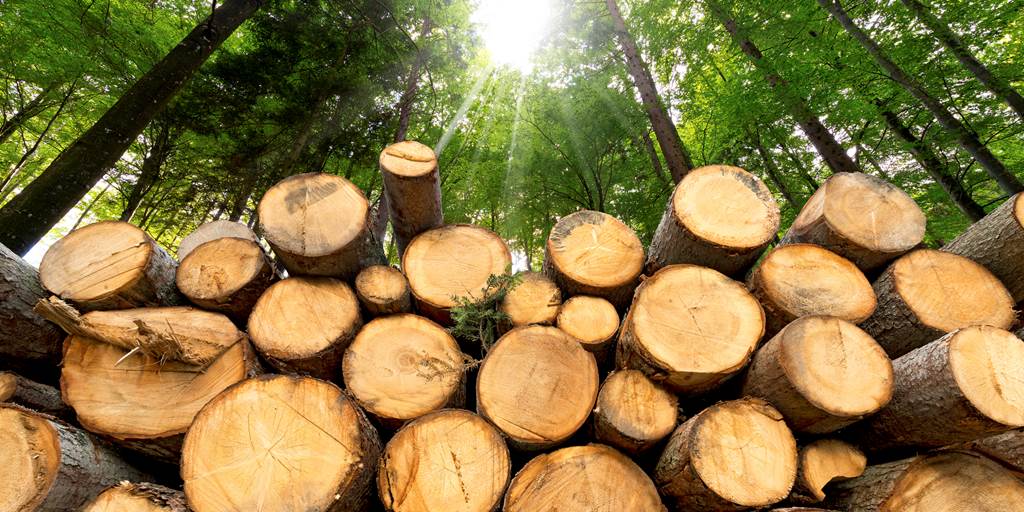 There is something uniquely American about a traditional log cabin. These iconic wood structures have been built in North America since as early as 1638, and continue to be a prevalent, iconic part of American culture today.
Though quite a bit about the construction of log cabins has changed since the early days, one thing remains the same: eastern white pine is still considered one of the best building materials you can use when constructing a log home of your own.
Why Build with White Pine
Eastern White Pine trees are one of the most widely used wood sources for construction across the United States, and with good reason. White Pine is versatile, durable, easy to source, and reasonably priced. The creamy white to warm golden yellow coloration darkens with age, giving it a beautiful rustic charm perfect for log homes. The straight, even grain pattern of pine is just as notable as its coloration and lends to the wood's overall sophisticated look.
Pine lumber is beautiful, but that's not the only reason it has become one of today's most popular types of wood. The versatility, convenience, and strength of pine are all factors that contribute to why this species has stood the test of time.
The Availability of White Pine
White Pine grows locally across eastern North America and is among the first to mature in a developing forest. It's wide availability and reasonable price point is because pine can be harvested, replanted, and harvested again much quicker than other, more expensive woods like oak and cedar.
Unlike more particular trees, the white pine can also be planted in soils and climates where other species may not thrive. This added benefit makes them an excellent, sustainable crop. Additionally, the local availability of pine reduces the species' environmental footprint and shipping costs, which when paired with their rapid growth rate makes them a highly renewable wood source.
The Durability of White Pine
When properly treated, eastern white pine timber is ideal for log cabin construction. When there are temperature or humidity variations, pine does not shrink and swell as much as other species. Because of this, white pine has the least amount of radial shrinkage of any wood species used as an engineering material.
This minimal shrinkage rate means that log homes built using white pine will be stronger and more durable. Eastern White Pine trees also are known for growing 80 to 100 feet with minimal twisting or curving of the trunk. Modern log homes use large, milled logs to create dramatic looks and show off the natural beauty of the wood, which means the long, straight trunks of eastern pine make them ideal for log home construction.
The Versatility of White Pine
In addition to pine's noteworthy strength and durability, the uniform texture of eastern white pine mills easily and holds finishes extremely well. These ideal material features make this particular variety of wood a great choice for not just log cabins, but interior décor and home accents as well.
Pine is used for multiple interior finishes, such as interior trim, paneling, and doors. It is also frequently used for exterior finishes as well, like log siding and timber trusses. White pine is known for being incredibly workable, even by hand. Because of this added element, pine is often used for detailed home accents as well as decorative building materials. Custom pieces like pine mantels and log staircases can also be made to make any home feel like a log cabin.
How to Build a Pine Cabin of Your Own
At Northern Log Supply, we have been helping people make their log cabin dreams a reality since 2003. We have the knowledge and experience to ensure we source only the best, highest quality timber for our customers, including our white pine products.
If you're ready to bring your ideas to life, call us. We are here to help with all your log home needs. We can even help with installation! Contact us today for advice on selecting the right wood, finish, and features for your home.