The Benefits of Cedar Shake Siding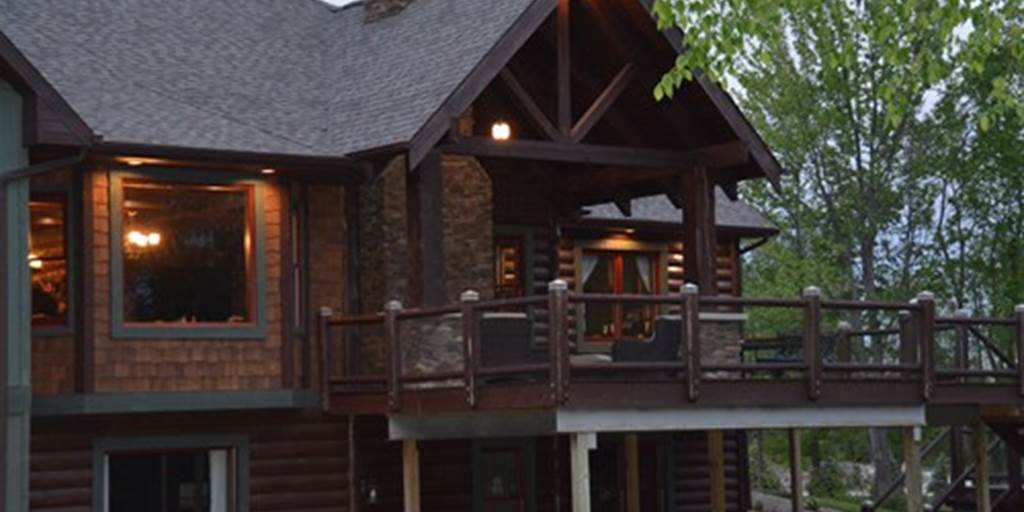 In our 20 years of experience providing homeowners with the expertise, resources, and know-how needed to create one-of-a-kind log cabins, there is one factor that we have noticed always seems to be the hardest for our clients to decide on: style.
Something we find ourselves asking our customers time and time again is whether they want something classic like a cabin with traditional log siding, or are they looking for something that makes more of a statement? If they are leaning toward an eye-catching style that makes people do a double-take, we will almost always suggest cedar shake panels.
Cedar shake shingles and cedar shake panels create a breathtaking look that is the perfect balance of rustic and contemporary design. The rich warm color of western red cedar paired with the almost endless installation options means any log cabin that uses cedar shake siding is guaranteed to standout.
We have compiled a handful of some of the most noteworthy benefits of cedar shake shingles so anyone who may be struggling to settle on the overall style of their log home can have all the information needed to choose their siding with confidence.
Style
We have already mentioned the inherent beauty and style of cedar shake paneling, but the benefits don't end with its striking color and distinct grain pattern.
Cedar shake is incredibly versatile and allows for multiple installation methods.
Whether you want a clean modern look with straight lines and minimal texture, or are looking for something more organic and charming, cedar shake shingles can be installed in a variety of ways to lend to almost any aesthetic.
Unlike other woods, cedar does not have to be stained for exterior use. Instead, the wood shingles will naturally age while still resisting damage. This process will create a stunning aged cottage look that many homes cannot replicate with other siding materials like vinyl or aluminum.
Durability
Cedar is considered one of the most durable wood species available for home and construction. One of the strongest woods in the world, cedar is resistant to cupping, warping, and shrinking. Not only that, but western red cedar is often considered notably fire resistant because of its limited flame spread and fire-prevention properties.
Cedar is also well known for its naturally occurring preservatives that act like a built-in defense system against termites, moisture, and even decay. This inherent protection against pest, decay, and warping means that any structure with cedar siding is going to be notably resilient for years after its initial construction.
Maintenance
Like any material, cedar shake paneling will require regular maintenance to ensure it lasts for generations to come. Unlike other siding materials; however, cedar shake requires very minimal effort to maintain its quality and integrity.
Cedar has natural antibacterial and anti-fungal properties, which means the wood can actually be left untreated without worry of excessive warping or rot. For those who do choose to stain and treat their cedar shingles, cedar is incredibly porous and holds seals and stains exceptionally well. They will most likely need to be re-stained now and then, but the frequency is based more on aesthetic preference than need.
In terms of repairs, cedar shingles are noted for being far easier to replace than other materials like vinyl siding. Luckily, because cedar shake paneling is often made up of individual shingles, those shingles can be replaced separately opposed to other siding materials that may require much larger sections to be replaced, even in the case of minimal damage.
ROI
Arguably one of the greatest benefits of cedar shake siding is its impressive, industry-leading return on investment (ROI). Unlike other wood siding materials and styles that offer around a 77% ROI, cedar shake and shingles typically come in well over 80%.
Why is this important to keep in mind? Though cedar shake is a more expensive siding option, once it is installed homeowners can expect to see more of a financial return in the long run when compared to more traditional siding materials.
Additionally, cedar is well-known for its incredible insulation properties. That means while your neighbors utility bills may skyrocket in the dead of winter and the dog days of summer, cabins made with cedar will keep your bills noticeable more consistent.
_____
How to Get Started
If you're ready to make your cedar shake cottage come to life, we are here to help. Our experts can help with the layout, design, and installation of your cedar shake siding.
Still have questions? Maybe you still aren't sure if cedar shake paneling is right for you? Call us, we are happy to walk you through your options so you can take the next step to making your log home a reality.