How to Prepare Your Log Home for Winter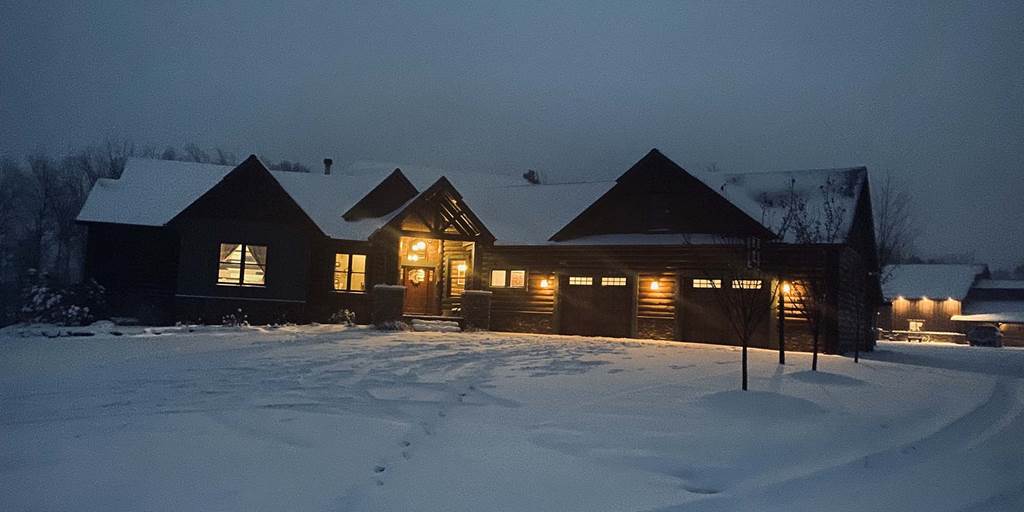 With the seasons changing, log home owners need to brace themselves for the harsh winter months ahead. This time of year tends to bring a lot of precipitation, and the freezing conditions can be especially hard on log homes. Proper log home maintenance is key, and it's best to ensure your home is winter-ready before the first big snow. Whether you're shutting down your lake house, prepping your ski lodge, or just doing routine home maintenance, follow these five steps to winterize your log home.
Inspect the Exterior
Sunlight and water are natural enemies to log homes, as these elements can attack wood, degrade finishes, and break down your finishes and stains. Walk around your log home, inspecting its finishing and paying special attention to the log siding and trim close to the ground. Your logs should still have most of the stain color, or if you used a clear finish, still have its natural shine. Black, gray, or faded logs have lost their protective finish, exposing the wood to potential damage. Be sure to wash your log siding and re-apply stain if needed or if you haven't done so in the past couple years.
Insulate
Properly sealed joints and gaps can help prevent cold drafts from entering your log home. Weather stripping and caulk are two essential components for insulating your home for the cold months ahead and keeping your heating bill low. Inspect your windows and doors as well as your log siding for any gaps. Refill breaks in caulk and replace your weather stripping if needed to ensure your log home is properly insulated for the winter.
Clean Gutters
Heavy rain storms or constant soaking from melting snow can make your log home susceptible to wood damage. It's important to clean your gutters and downspouts of leaves and twigs to ensure your draining system is properly in tact for the wet months ahead.
Protect Against Rodents
Rodents like mice and squirrels can fit through tiny openings and will be looking for a warm place to stay for the winter. These rodents can cause lasting damage if they enter your log home. To ward off these pesky critters, clear away all debris from around the foundation of your house. This will allow you to closely inspect your foundation for cracks and chinks and fill in any holes.
Prepare the Fireplace
There's nothing quite like cozying up to your fireplace during the winter. Before building a fire, check your chimney for cracked mortar, debris, mold, and mildew. Additionally, never store firewood on your porch, deck, or next to your home. Firewood can bring insects, ranging from beetles and pill bugs to termites and carpenter ants, that you don't want anywhere near your log home. Store your firewood at least two feet away from your home and keep it off the ground. When you bring firewood inside, only bring in as much as you plan to burn in a day to avoid an infestation.
More Log Home Maintenance Tips
Preparing your home for winter can make the cold, dark months ahead more enjoyable. You'll rest easier knowing your home is protected against the elements so that it can last for generations to come. For more log home maintenance tips, sign up for our newsletter to receive advice, special offers, and discounts on wood products. Or, give us a call, and our friendly staff will be happy to help answer any questions you may have.