Should You Build or Buy a Log Home?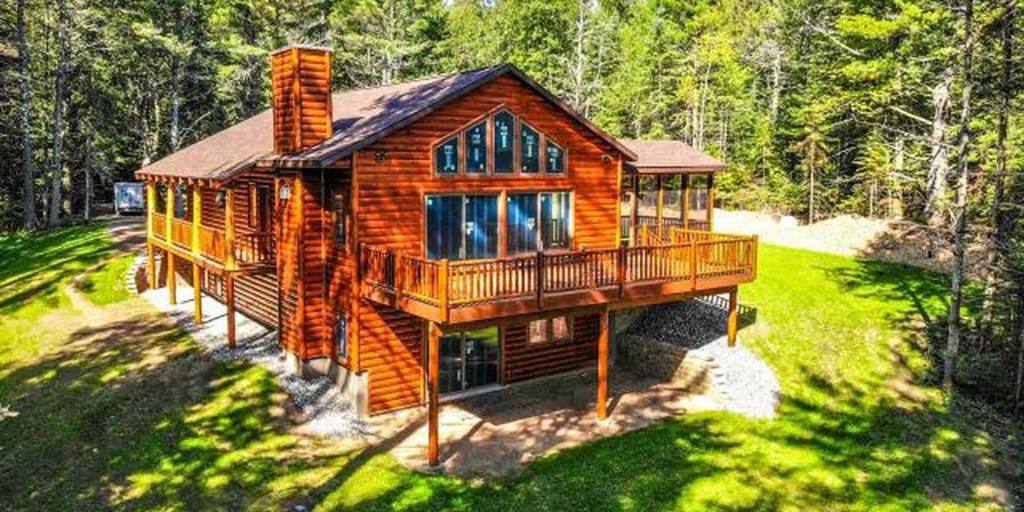 Over the past few years, log homes have become a popular trend among home buyers. According to a survey by the National Association of Home Builders (NAHB), the sale of log and timber homes has increased by more than 15 percent over the past eight years. When deciding on your next home, many often wonder is it better to build or buy a home? Each option has its pros and cons. For example, building a log home from the ground up will give you the floor plan and design you want, but will take months to construct. Buying an existing home, however, means you'll get to move in right away, but you may have to compromise on a few features. Below, we explored the arguments for and against building and buying a home to help with your decision.
What to Consider When Building a Log Home
When you build a log home, you'll get a fresh start as the first owner of your home. However, it may take some time before you can enjoy it. Here are a few more advantages and disadvantages to consider.
Less Competition in the Marketplace
When it comes to real estate, it's a seller's market. According to the National Association of Realtors, existing homes are typically on the market for only 30 days, making it a fierce competition to buy. This can drive up home prices and prolong your search. When you build a log home, you'll find it's typically less competitive to buy land than a home.
Total Customization
The obvious benefit to building a log home is that you can customize everything. You'll have a say in all the details of your log home, from the floor plan to the wood stain, down to the trim. Getting everything the way you want it right from the start will save you time and money in the long run. Need some inspiration? Check out these log home design ideas!
construction
According to the U.S. Census Bureau, it takes an average of seven months to construct a new home. Not to mention, there may be factors, like weather or unforeseen ground conditions, that can further delay the move-in date for your log home. You may also have to deal with construction noise as the builders put the finishing touches on your home.
Post-Move Costs
When you start from scratch, there are additional costs beyond four walls and a roof that go into making a house a home. Landscaping, window blinds, appliances, and more can sneak up on you when you're focused solely on the cost to build.
What to Consider When Buying an Existing Log Home
A move-in-ready home is great when you're in a time crunch, but there may be some unforeseen problems home buyers should consider before breaking out the cardboard boxes and packing peanuts. Here's what you need to know before you buy an existing log home.
Maintenance Issues
Compared to building a new home, you'll take a greater risk of facing maintenance issues when you buy an existing home. Depending on the age of the house, there will likely be even more maintenance issues for older homes. While a professional home inspection can help uncover many potential problems before closing on a home, some maintenance issues may fall through the cracks or there may be outdated features that need updating.
Compromise
When you choose to buy, it may not have everything you imagined for your dream log home. Wish you had a log staircase? Wood paneling in the bedroom? Log siding on the exterior of your home? When you're already investing so much into buying a log home, it can be disheartening when the one you purchase doesn't entirely meet all of your requirements.
Less Stress
While either choice will be stressful at times, purchasing an existing home is often less stressful than building one. When you build a house, you'll have to decide on a home design and pick out siding, fixtures, trim, colors - the list goes on. You'll have to do all of this in addition to buying the land and while staying within your budget. Managing all these details takes significant time and effort that not every buyer wants to deal with.
Upgrade at Own Pace
Didn't get that log staircase you wanted? Are the walls covered in wallpaper when you wanted wood paneling? When buying an existing home, you can make upgrades as time and money becomes available.
Choose Northern Log Supply for Your Next Log Home Project
Whether you decide to build or buy, Northern Log is here to help ensure you get the log home of your dreams. We frequently supply home buyers with high-quality wood, sourced from Michigan, to complete projects like replacing your log siding or installing cedar log railing. We'll even give you a hand with installation! For those looking to build, we'll work with builders, architectural firms, and construction companies to start building your dream home from the ground up. Contact us to see how we can supply your next log home project.