What is Board and Batten Siding?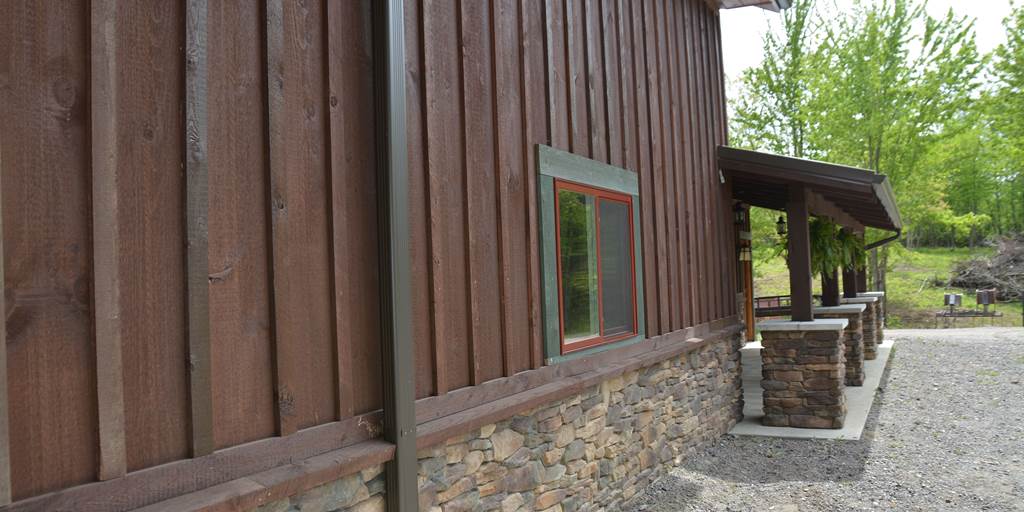 When it comes to decorative exterior and interior wall treatments, homeowners and contractors have multiple types of siding to choose from:</p.
brick
stucco
vinyl siding
board and batten siding
Any designer will tell you: the right siding style can elevate the look and feel of a space. Unless you're well-versed in building materials; however, you may only be familiar with the more common siding options such as brick, vinyl, and stucco. If you're on the hunt for a more memorable look, a unique application like board and batten siding can complement your space and offer a creative alternative that guests are sure to remember.
WHAT IS IT?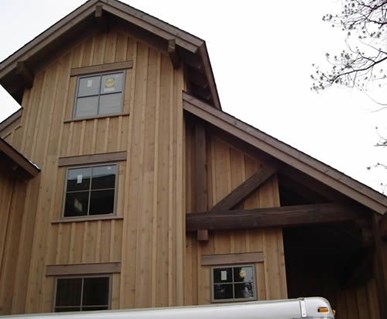 Board and batten is a type of wood siding that has recently grown in popularity due to its versatility and customization options. As for what it is—alternating wide wooden boards and narrow wooden strips, called battens, are individually placed side-by-side on interior and exterior walls to create a repeating geometric pattern. The wood boards themselves can be positioned horizontally or vertically, which makes them a great option for any building project.
Depending on the finishes you choose, these textured walls can be made to match almost any style—from rustic to modern. The versatility of board and batten makes it a great option for providing curb appeal and ambiance to any structure. According to Real Simple, "The vertical element of board and batten gives homes added texture. It plays with shadow, which allows homes' appearance to shift with the sun over the course of the day."
INSTALLING BOARD AND BATTEN SIDING
Many manufacturers of board and batten siding will often refer to it as "barn siding" since it is frequently used on the exterior of barns and similar wood structures. Its usefulness doesn't stop there, though. DIYers, interior designers, and contractors alike now use board and batten siding for homes, restaurants, lodges, retail stores, and multiple different interior spaces.
If you like the look, but don't necessarily want to commit to covering your whole building in it, you can use board and batten siding as an accent on things like shutters or porches. Additionally, it can be applied decoratively in the interior of your home, like board and batten ceilings, wainscoting, and modern wall paneling.
When it comes to actually installing board and batten siding, it is fairly simple. Whether you hire a professional or do it yourself, as long as you have a measuring tape and a nail gun, you can expect to apply around 800 ft. of wood a day. This means even a big project can be completed quickly and efficiently.
ADVANTAGES
Similar to log siding, properly installed and well-maintained board and batten siding can last for many years. Here are a few other advantages to consider:
Resale Value: Since board and batten is widely considered a timeless technique, using it can help add to the resale value of your home or building.
Replacement: Because each board and batten piece is installed individually, they are easy and inexpensive to replace, should it become necessary.
Pre-finishing: Northern Log Supply offers pre-staining and pre-finishing options when you order any of our log siding options, cutting down on installation time and mess.
WHERE TO BUY BOARD AND BATTEN SIDING
Locally sourced from the natural woods of Michigan, Northern Log Supply offers board and batten siding for residential and commercial applications. Our board and batten siding is made from pine and features a rough sawn texture. For quick and easy installation, our siding can come pre-stained or pre-finished in your choice of exterior or interior wood stain. Contact us for a quote or to get more information on board and batten siding for your next project.