What is Board and Batten Siding?
When it comes to siding, homeowners and contractors have several different options available for a home or commercial building. There are a handful of siding materials that are most commonly used, including brick, stucco, vinyl siding, log siding, and board and batten. It's important that you choose the right style to match the look you want to achieve. Unless you're well-versed in siding materials, you may only be familiar with the first few mentioned. Although board and batten has been around for centuries, it's recently risen in popularity as a great alternative to traditional siding.
What is Board and Batten?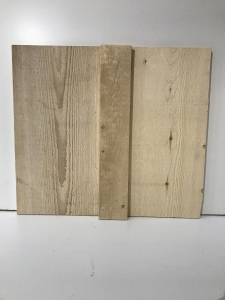 Board and batten is a type of log siding that has alternating wide boards and narrow wooden strips, called "battens." The boards can be placed horizontally or vertically.
This type of siding can give any home or building a modern, rustic look that provides excellent curb appeal. According to Real Simple, "The vertical element of board and batten gives homes added texture. It plays with shadow, which allows homes' appearance to shift with the sun over the course of the day."
Board and Batten Siding Applications
Board and batten is sometimes referred to as "barn siding" because many barns are constructed this way. However, board and batten can be used as siding for homes, restaurants, lodges, retail stores, or any other type of building.
Board and batten is commonly used as exterior siding on buildings. If you don't want to cover your whole building in board and batten, it can be used as accents, like shutters or porches. Additionally, board and batten can be used in the interior of your home, such as ceilings, wainscoting, and even wall paneling.
Advantages of Using Board and Batten
Like log siding, properly installed and well-maintained board and batten siding can last for many years. Here are a few other advantages to selecting board and batten:
Versatile: Board and batten is versatile in that the boards can be installed horizontally, vertically, or both, with the battens placed in between the boards.
Curb Appeal: As previously discussed, board and batten can add to the aesthetics of your home or building.
Resale Value: Since board and batten is so aesthetically pleasing, this can help add to the resale value of your home or building.
Replacement: Because the boards and battens are installed individually, they are easy and cheap to replace, should it become necessary.
Order Board and Batten Siding Today
Sourced from the woods of Michigan, Northern Log Supply offers board and batten siding for residential and commercial applications. Our board and batten siding is made from pine and features a rough sawn texture. For quick and easy installation, our siding can come pre-stained or pre-finished in your choice of exterior or interior wood stain. Contact us for a quote or to get more information on board and batten siding for your next project.