A Cut Above the Rest: 5 Advantages of Cedar Log Siding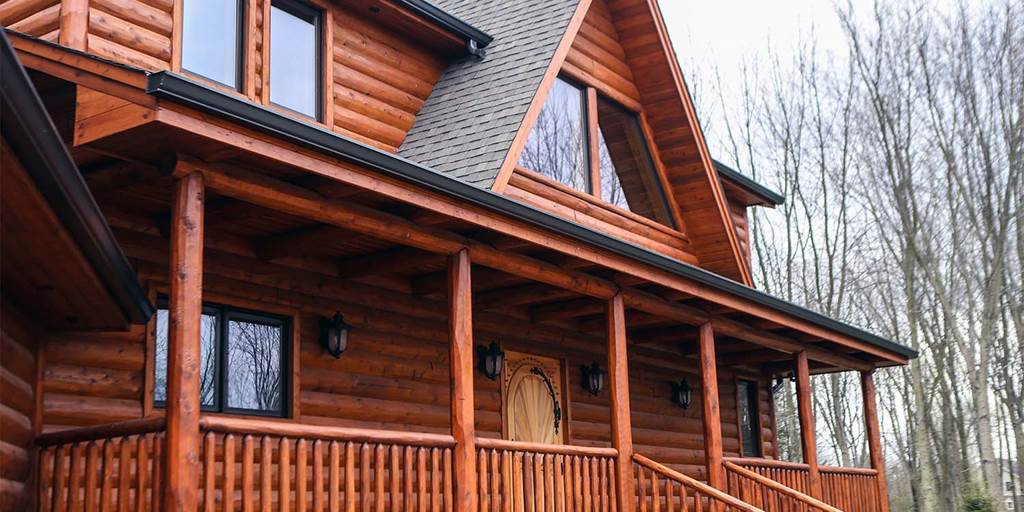 If you want outdoor siding that withstands weather and age without losing its beauty, cedar log siding is the perfect choice. Cedar is known for its rich color and scent, and it's been a popular siding option for centuries because of its functionality and allure. 
Whether you prefer the polished finish of machined smooth cedar or the natural knotted feel of rustic hand-hewn cedar, this versatile material can be sanded, shaped, and stained to suit any building. At Northern Log Supply, our expert craftsmen have completed countless projects featuring high-quality cedar log siding. Read on to learn what top five features make cedar log siding a staple for us and our customers.
Durable Defense
Cedar is highly durable and capable of withstanding harsh weather for long periods when properly maintained. Even in damp climates, cedar stands strong instead of shrinking, swelling, or warping. It is resistant to rot and decay and even contains natural tannins to repel rodents and insects. This natural defense can help protect your home from unwanted pests. 
Natural Beauty
Types of both red and white cedar are widely grown and available in Michigan, and both choices are known for their unique beauty. With rich hues of red, amber, tan, and white, this siding naturally complements a variety of home aesthetics and color schemes. It can be stained or painted to better match your vision or finished with a clear coat so the natural shades shine through. 
Preserve your Perfect Color: At Northern Log Supply, we know not every customer loves the gray-ish tint untreated Cedar can adopt over the years. That's why we developed a premium cedar pre-finish that protects your chosen color for decades to come.
High Insulation
Cedar is a low-density, softwood that stays lightweight while offering higher insulation than its counterparts. Cedar log siding helps make your home warm and cozy in the winter and cool in the summer. This keeps your energy bills low and your loved ones comfortable. 
Low Noise
Cedar is also sound-resistant because of its highly porous nature. This reduces noise in your abode and prevents internal and external noises from growing too bothersome. Cedar's noise-absorbing qualities are a key feature that can benefit homeowners in all locations, from bustling cities with heavy traffic noises to country cabin spots made even cozier with peaceful quiet. 
Versatile
Cedar log siding is available in a range of shapes and styles, from cabin-esque full-log siding to narrower, more contemporary quarter-log siding. In addition to the size you select, you may also choose your preferred texture. A machined-smooth cedar siding will be polished and soft as compared to the coarser hand-hewn cedar siding, which maintains a more natural appearance with wood knots and rustic touches. 
Customize your Cedar Log Siding with Expert Craftsmen
Northern Log Supply is a family-owned and operated log company based in Michigan. We ship our quality cedar and pine wood products all over the United States, partnering with both residential and commercial customers to deliver premium products personalized to your unique needs and vision. 
If you need durable, beautiful cedar log siding for your next project, we're eager to help. Reach out to our helpful team today.