Design Ideas for Shiplap Paneling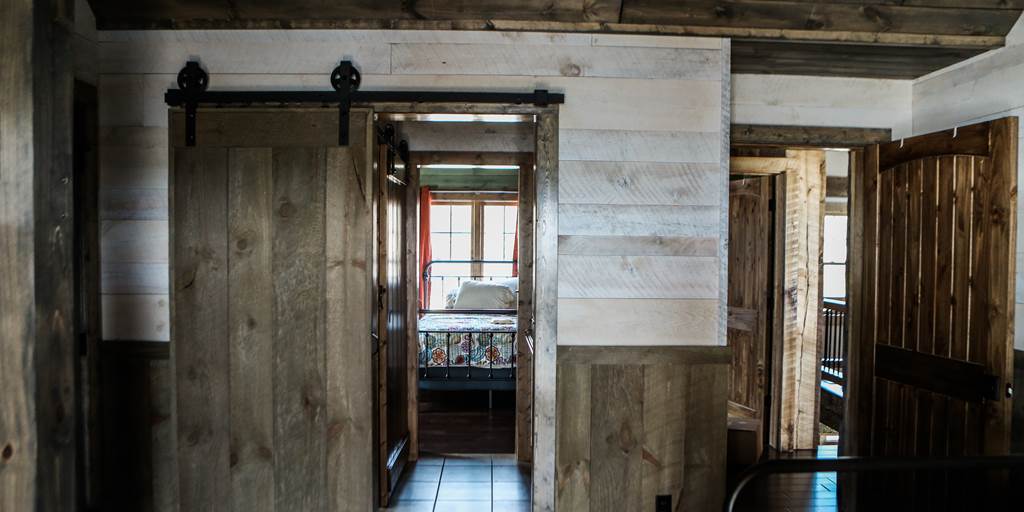 Love that rustic farmhouse look? Shiplap, named for its use on ships, is a type of paneling that consists of wooden boards that overlap. You may have heard it used on popular TV home renovation shows like Chip and Joanna Gaines' Fixer Upper. But do you know just how versatile this trend really is?
Whether you use large or small planks, stain or finish them, or give them a rough sawn texture, there are many different ways you can use shiplap in your home. Below, we outlined a few of our favorite shiplap design ideas for your walls, bathroom, ceiling, bedroom, and more.
Shiplap Bathroom Ideas
Many DIYers often wonder if installing shiplap, or any kind of wood paneling for that matter, in the bathroom is a good idea, given the high levels of humidity and moisture in the room. No one wants to worry about mildew or peeling paint. However, you can install shiplap in the bathroom with the proper stain to protect the color and keep fungus from growing.
In fact, deciding to install shiplap in your bathroom can be a great added feature, whether you install it as a wainscotting application, on the ceiling, or on the walls. Especially if your bathroom is on the small side, shiplap can help make the room appear larger when installed horizontally on your walls. Just look at a few of the different ways our customers have used shiplap in their home bathroom and even in a public restroom.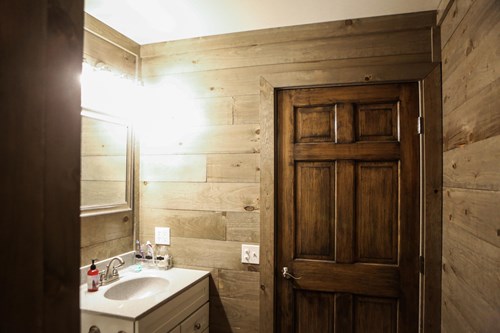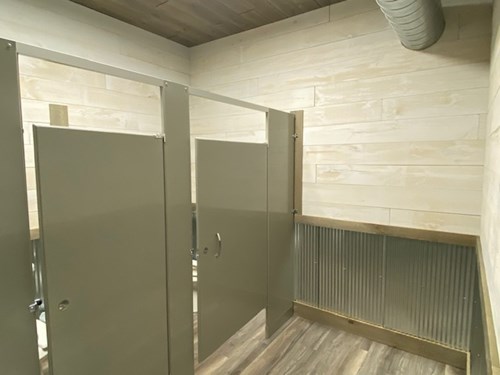 Shiplap Bedroom Ideas
Like most rooms in your home, the bedroom can start to feel boring or outdated after a while. This becomes even more complicated when you're tight on space. If you want to create a cozy bedroom but don't have that much space, shiplap can help make the room look fresh and inviting.
We love how these customers used it in these two different bedrooms for adults or children. Check out the rough-sawn texture of the shiplap in the lake house bedroom with the bunk beds and the circle-sawn pattern of the whitewash shiplap in another customer's guest bedroom.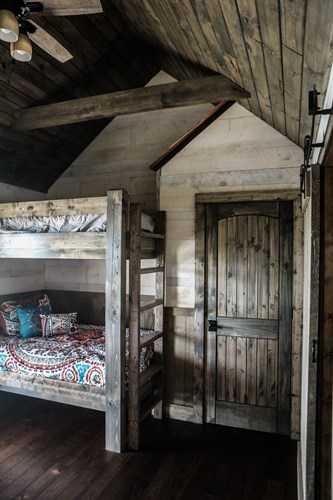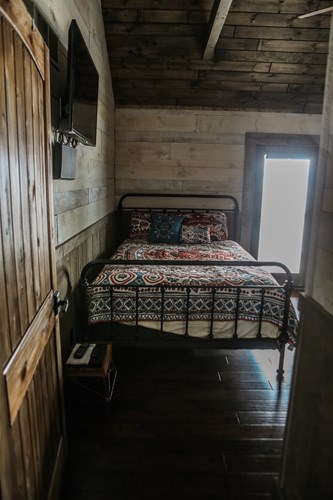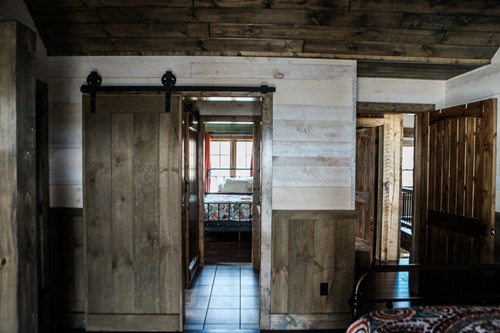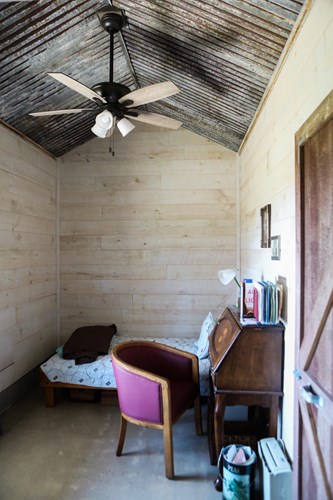 Shiplap Accent Wall Ideas
If you want your shiplap to be more of a focal point in a room, consider using it as an accent wall, rather than having it installed on all four walls. Here's how one of our commercial customers used it as an accent wall in their building.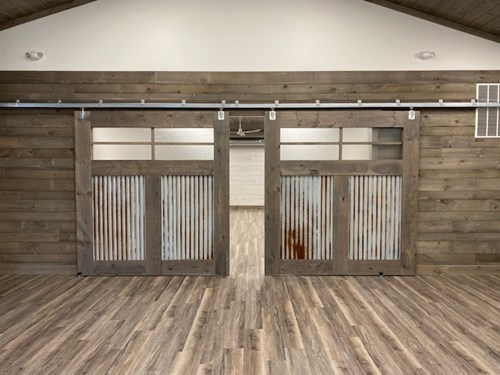 Here's another idea for a shiplap accent wall. We love how this customer installed their shiplap in a geometric shape on one of their walls.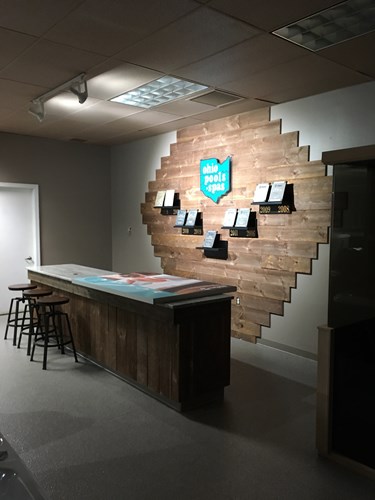 Shiplap Ceiling Ideas
In a room, the ceiling is often referred to as the "fifth wall," and thus, should not be forgotten. When thinking about the design of your home, installing shiplap on your ceiling is not only a beautiful design element, but one that can give height to a space. Not to mention, if you have a drywall ceiling, the pattern of clean lines between the boards is a great way to add some texture up above.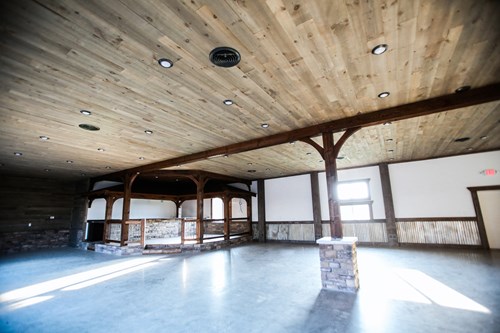 Shiplap Color Ideas
Oftentimes, we'll see customers request that their shiplap paneling be painted country white. For a more rustic look, consider "whitewashing" your shiplap, rather than using a full coat of white paint. Simply start by watering down your paint, brush it on your walls, and then wipe immediately. Repeat this process until you get your desired color. (For an easier and cheaper option, we can pre-stain your shiplap with your desired whitewash color.)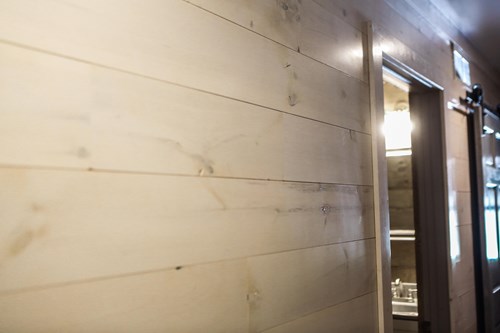 Stone grey is another popular, neutral color that adds a more weathered look to your shiplap paneling. See how this customer applied to their shiplap below.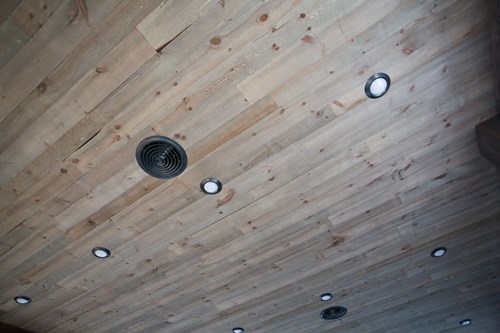 Ready to Incorporate These Shiplap Design Ideas in Your Home?
Northern Log Supply offers high-quality pine shiplap paneling, harvested and milled in the woods of Michigan. With features like end-matching, installing your shiplap paneling on your walls or ceiling is a breeze.
Complete your project by choosing a clear coat to bring out the wood's natural beauty, or select a stain like whitewash, stone grey, or warm walnut from our pre-finish stain selection for cheaper and faster installation. Our friendly staff can help you from measuring to ordering through shipping and installation. Contact us to see how we can help you with nearly any shiplap design idea you're trying to achieve.