How to Stain Your Log Siding and Paneling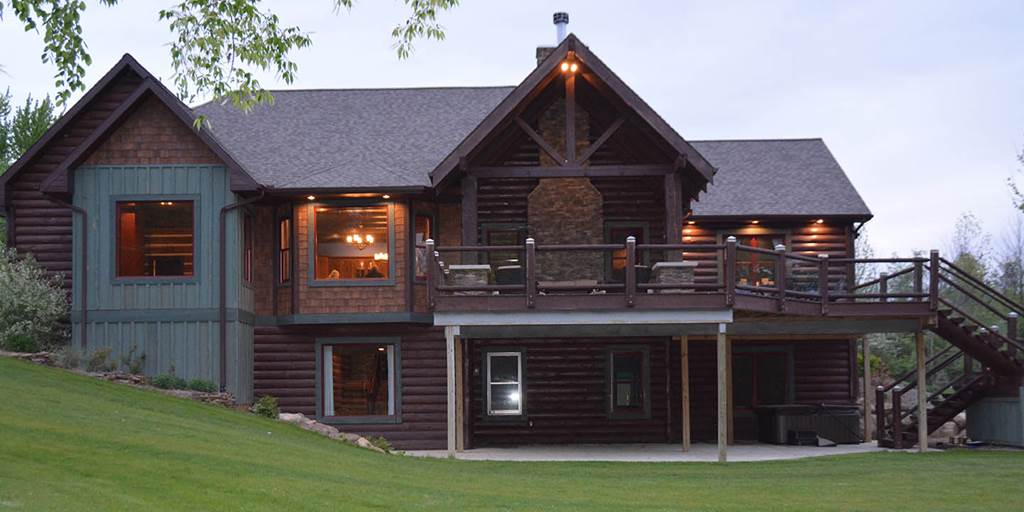 Once you've built your dream log home or cabin, you'll want to take the necessary precautions to protect your finish and the wood from water damage. Want to keep your log siding and paneling looking great for years to come? In this guide, we'll cover:
Threats to Maintaining Your Log Home's Exterior Wood Stain
Exterior and Interior Wood Stain Colors for Your Log Home or Cabin
Log Cabin Staining Tips for Exterior and Interior Log Siding
Benefits of Pre-finishing or Pre-staining Wood
Threats to Maintaining Your Log Home's Exterior Wood Stain
There are three main threats to the beauty and longevity of your log siding stain: sunlight, dirty and pollen buildup, and moisture.
Sunlight
Sunlight will break down both the finish and the stain on your log siding. As the Southern and Western sides of your log home are exposed to the most sun, they will show signs of weathering before the Northern and Eastern exposures. When the sun damages your log siding, it will also lose its water resistance, opening it up to moisture. Most log homeowners set up a regular schedule of cleaning and adding a maintenance coat to touch up their Southern and Eastern exposures within two years of installation. The next year, they typically will need to clean and touch up the Northern and Western-exposed siding. From there, you'll want to schedule a regular rotation f a maintenance coat and a caulk touch up every year, or every two years if your home doesn't get much sunlight.
Dirt and Pollen Buildup
Dirt and pollen buildup can be one of the easiest threats to overlook. Each spring, after your main pollen season has passed, we recommend removing any dirt, dust, or pollen that has accumulated on the logs with a top-to-bottom wash. This simple practice will keep your wood stain from breaking down and opening it up to moisture. Many log homeowners use a garden hose to spray down the exterior of their log home once a year in the spring and again in the fall. Make sure you have enough pressure to get up to the rafters and work your way down the cabin.
Moisture
A log siding stain's primary job is to prevent moisture. However, when sunlight, dirt, or other particles break down your finish, moisture can cause mold and mildew and damage your wood. We recommend applying a wood stain that has a borate treatment, which prevents the growth of mold and mildew on log siding.
Interior Stain Maintenance Tips
Maintaining your log cabin interiors depends on the type of finishing and product you have installed. We recommend dusting regularly using a soft cloth. Be sure to avoid cleaning products with a wax sealant, as it will dull your finish over time. Once or twice a year, use a damp cloth (water only) to wipe down your interior wood from ceiling to floor. Check all caulk points to watch for any moisture, especially in the corner joints and around windows and doors. Check out this blog post for more log home maintenance tips.
Log Siding Stain Colors
Here are the stain colors Northern Log Supply offers for exterior and interior applications. Custom colors are also available.
Log Home Exterior Stain Colors
The pigment in your wood stain can actually help fight sun damage. The darker your stain color, the longer the stain—and your log siding—will last. We always recommend you go as dark as your design aesthetic will allow. See our stain color chart below for exterior wood stain colors.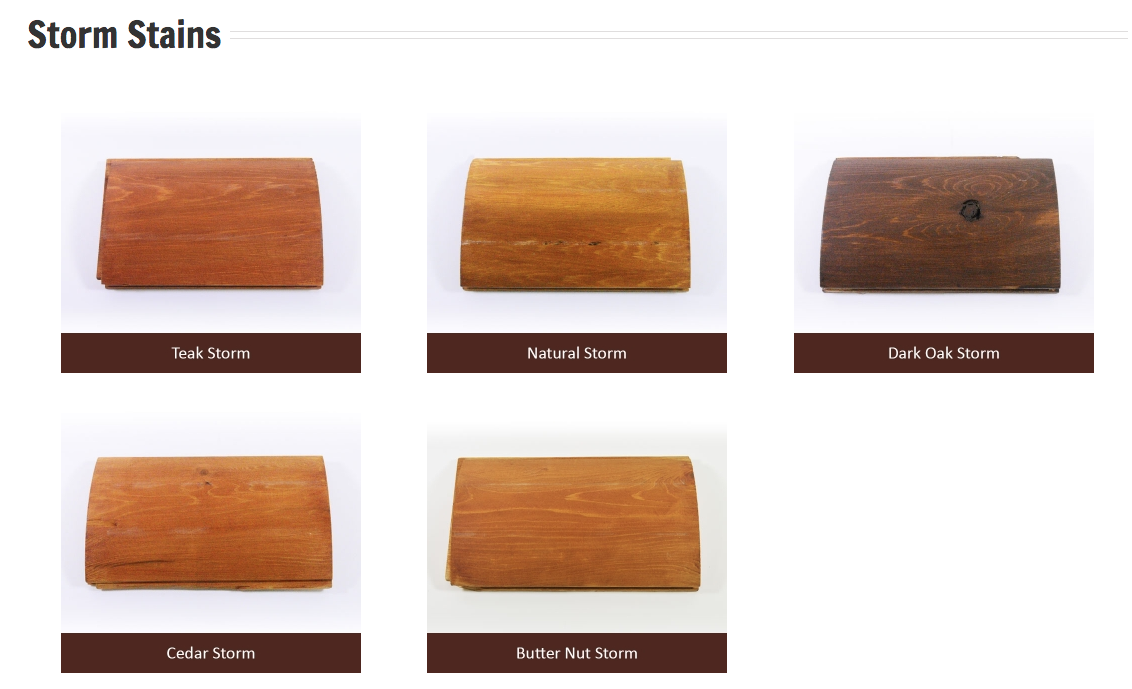 Log Cabin Interior Stain Colors
From wall coverings to trims to doors to log siding, wood stain is one of the most important aspects to helping an interior wood project flow. One trend we've seen is that log homeowners tend to prefer a lighter shade for the wall coverings and a dark wood stain color for the trims and doors. See our stain color chart below for interior wood stain colors.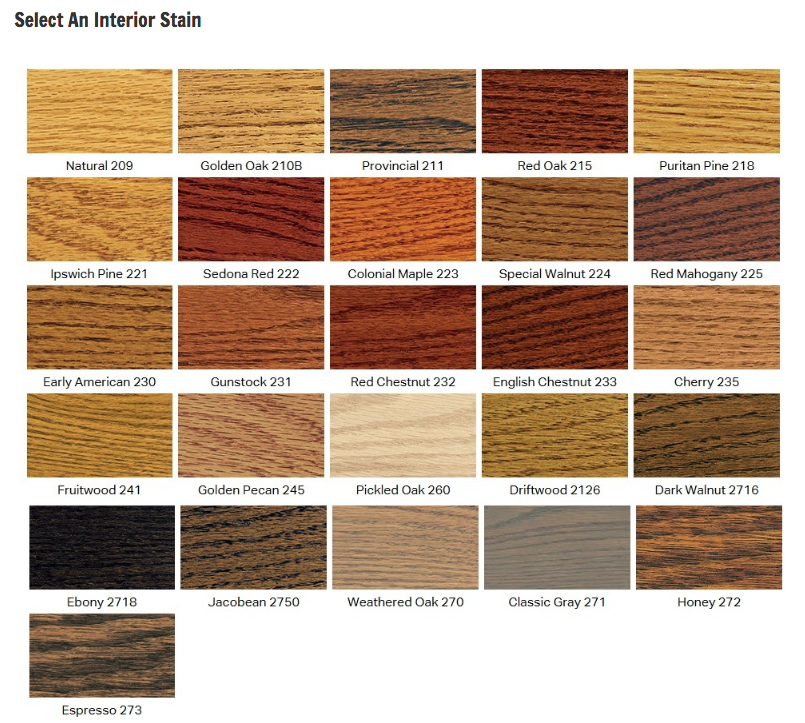 Check out this blog post for our most popular interior wood stain colors.
Log Cabin Staining Tips
Step 1: Dry your wood.
Wood must be properly dried before applying stain for best absorption rates. The ideal moisture level for log home wood staining falls below 18 percent. This will allow oil-based coatings to penetrate and bond to your wood.
Step 2: Clean your wood.
Before you can stain your wood, you'll need to clean the surface. Remove any dirt and contaminates with a wood cleaning solution mixed with water. When rinsing the wood, be careful not to use too much pressure, as it could damage the wood. Again, ensure that the wood is dry before applying the stain.
Step 3: Apply two coats of stain.
Now, it's time to apply the stain. You must apply two coats. Remember, you'll need to coat all six sides of the wood: the top or rounded portion of the log, the bottom (or concave portion), both ends of the wood, and the tongue and groove potions. Be sure to allow plenty of drying time and sand the surface of your wood in between applying the coats. Note: Make sure it's the right temperature when you apply the stain, as it directly affects the rate at which your stain will dry. If it's too warm (either from the weather or direct sunlight), it may dry too quickly. If it's too cold, the drying process may take up to twice as long. The ideal temperature is from 50 to 90 degrees.
Step 4: Regularly apply a maintenance coat.
To ensure your log siding stays beautiful for years to come, you'll need to regularly apply a maintenance coat. Depending on how much sunlight your wood is exposed to, you'll need to apply a maintenance coat every one or two years.
Pre-Finish Your Wood with Northern Log Supply
Rather than stain your wood yourself, you can order logs pre-stained or pre-finished from Northern Log Supply. Pre-finishing is the best way to stain a log home.
How We Do It
When you order any of our wood products, your wood will be dried to the ideal moisture point to ensure the best absorption rate of pre-stain and finish. We kiln dry our wood to 12 percent moisture rate before finishing and shipping. Kiln drying helps open the wood grain for best absorption. To further open the wood grain, we either hand-hew or complete surface sand (upon request) to ensure your pre-finished wood absorbs the first and second coats well.
Why It's Better to Pre-Stain or Pre-finish Your Wood
Pre-finishing saves time and money and extends the life of your wood. Not to mention, it eliminates the mess and expense of finishing after installation. Advantages of pre-stain and pre-finish include:
Most of our customers save over 50 percent in costs of having a contractor stain after installing wood.
Our automated sprayers ensure a smoother, evenly coated finish
No delays in weather or humidity
Our borate treatment allows the material to deter any bugs, mold, and mildew
Projects are completed faster
Contact us today to request a sample of our exterior or interior stains or send us your sample and we'll custom color match.