What You Need to Know: Log Home Maintenance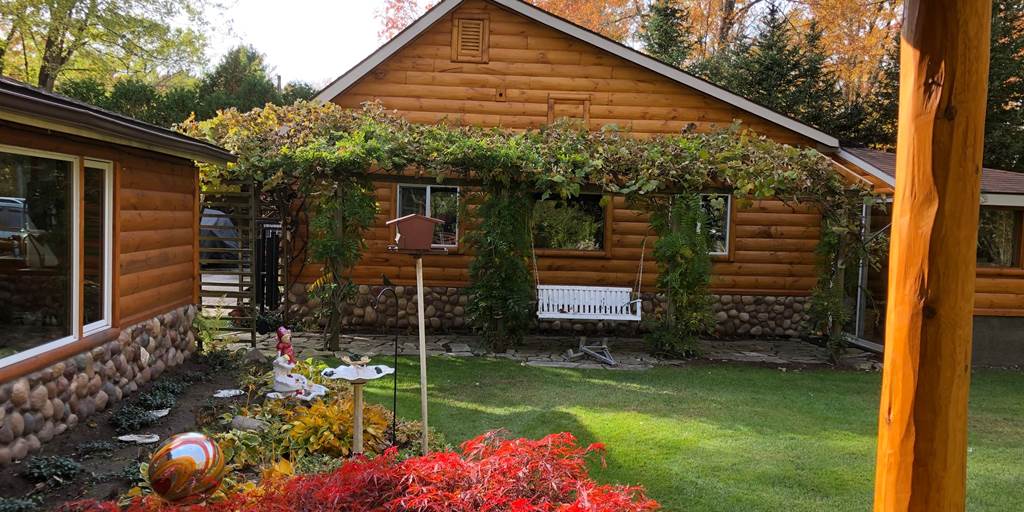 If your dream is to own a log cabin, you have probably come across a myth or two about how difficult they are to maintain. The truth is, with a little forethought and regularly scheduled maintenance, owning a log cabin can be a rewarding experience that is anything but a headache.
When you're ready to make your dream of building a log home a reality, make sure you take the following tips into consideration. Easy, sustainable upkeep can keep your wood looking vibrant and fresh for generations to come.
How to Design your Log Cabin
Believe it or not, but the design of your log cabin can play a huge role in how the quality of the exterior wood holds up over the years. Small tweaks to the layout of your home will help protect it from environmental and ecological harm.
Water can cause significant damage to any structure if left unchecked, and this is especially true for log cabins. Excessive moisture can lead to expedited log rot and the degradation of your wood. To combat this, it is important to design your roof in a way that minimizes the amount of water that comes in contact with the exterior walls of your cabin.
Large overhangs, also known as eaves, will help ensure that water draining off your roof lands far away from your cabin. In addition to extended overhangs, the pitch of your roof can also help protect against water damage. The steeper your roof is, the faster the rainwater moves down. This exaggerated roof pitch works similarly to the overhangs by effectively projecting rainwater away from the house.
We recommend that the projection of your cabin's roof is 24 inches or more for a one-story house, and 36 inches for a two-story house. Proper projection of eaves coupled with the slope of your roof will reduce the amount of water that comes in contact with your log siding.
Use the Right Wood
When building a conventional home, the type of wood you use isn't as important as it is when you build a log cabin. Conventional homes oftentimes use siding to protect any exposed wood from environmental factors. A log cabin on the other hand has exposed wood and therefore needs lumber that can withstand all the elements.
Even though there are hundreds of different types of beautiful wood, not every species exhibits the qualities necessary to make a quality log cabin. Each type and species of wood has an individual cellular structure that creates unique physical properties that determine suitability for different uses. It is crucial that anyone who is looking to build a log home works with a professional to guarantee the wood they pick has the durability, strength, and physical characteristics necessary to get the job done.
At Northern Log, we offer a variety of wood species specific to each product and project to ensure you're getting the best quality, every time. For exterior log siding, we suggest using either a white cedar or a white pine. These two wood varieties offer superior strength and durability without sacrificing look and feel.
Use the Right Wood Stain
One of the easiest ways to protect your log home from premature degradation is to make sure you properly stain your wood. Ideally, your logs should have a moisture content of about 14-15%. Anything more than 15% will result in mildew, mold, blistering, and log rot. Quality stains seal logs to protect against added moisture, as well as block harmful UV-rays from the sun.
We offer a variety of pre-finished or pre-stained wood products to help our customers cut down on installation expense and time. When you choose to stain your exterior wood, not only do you bring out your wood's beauty, but you protect it as well. Our experts can help you choose a stain that has all the properties necessary to protect and preserve the wood from moisture, UV rays, insects, mildew, and fungus.
Don't Skip Out on Regular Maintenance
Maintaining your log cabin doesn't have to feel like a full-time job. Like any building, a regularly scheduled maintenance routine can be the difference between your log cabin only lasting a few years or looking brand new for decades.
One way to extend the life of your log cabin is through cleanings. Take a walk around your home and make note of any moisture, discoloration, insects, dust, mold, or mildew on your exterior logs, windows, and doors. Over time, surface contaminants will eat away at the integrity of your stain. To combat this, make a point to regularly wash the exterior of your cabin to avoid debris sitting on your logs too long.
You will also want to clear any overgrown landscaping near your wood structure. This will keep dirt, bugs, birds, and water away from your exterior walls. It can also help cut down on mold and mildew damage because trees won't be blocking the sun and inhibiting drying after rainfall.
Checking is something you will also want to keep an eye out for when surveying your home. Checking, or the separation of wood fibers within a log, happens as your log cabin dries and settles into place. Though this is natural, you will want to stay on top of filling any visible gaps with caulk or chinking to avoid water damage and ensure your cabin lasts.
Work with a Log Cabin Professional
The easiest way to guarantee you make the right choices when designing and maintaining your log home is to work with a professional. They have the knowledge, skill, and expertise to do the job right. Northern Log Supply is a family-owned lumber mill, with over 15 years of experience designing, manufacturing, and distributing quality wood products.
Feel free to call us anytime with questions about our products or the ordering process. Our team of expert craftsmen are ready to make your log cabin dreams a reality.