Choosing the Best Logs and Styles for Your Log Home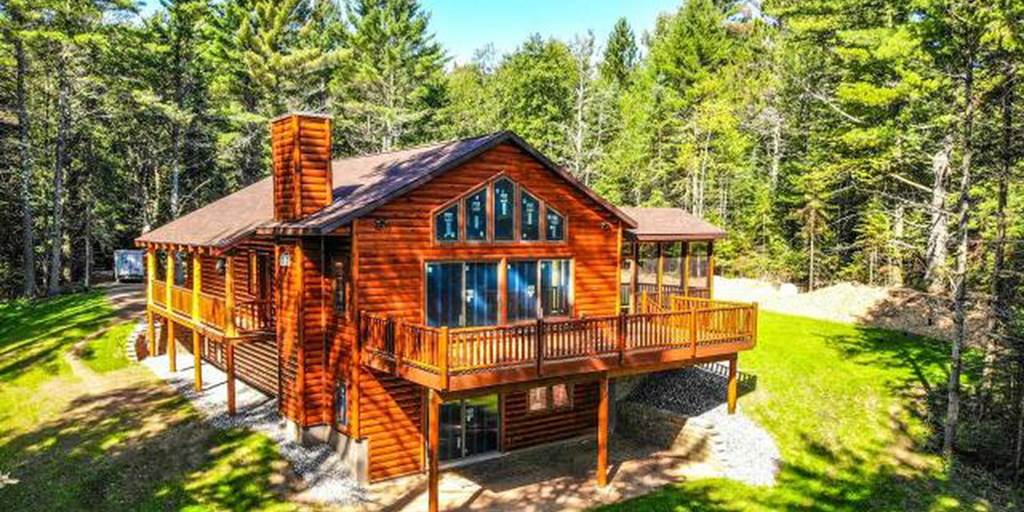 When you're first building a log home, it can be tough to choose what type of log home style you're going to build. Between deciding what wood you'll use and picking a finishing or wood stain color, there's a lot to consider. Since it can be easy to get overwhelmed when flipping through catalogs and product pages, we put together this guide to explain some of the most popular log home styles. We'll cover everything from the profile of each log to the corner style used to join each wall together, and more. Here's everything you need to know about log home styles.
Cedar vs. Pine
Deciding which wood species you need can be tough. Most log homes today are built with cedar or pine, but there are some key differences between the two that can sway your decision:
Cedar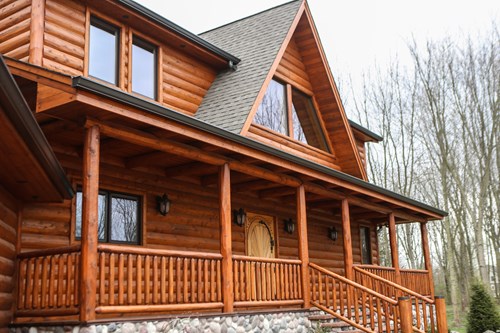 There are many advantages to using cedar wood that appeal to log home builders. For one, cedar is very durable, as it doesn't shrink, swell, wrap, or decay—even in damp climates. It's also a natural insect repellent and sound resistant. Because of these advantages, cedar tends to be an ideal choice for exterior log siding.
Pine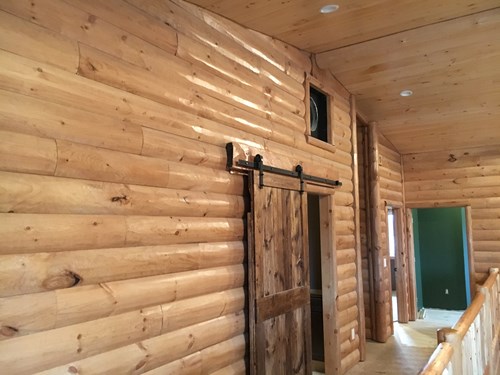 Pine, on the other hand, tends to be a more budget-friendly option for log home builders. All pine species contain pitch or sap and the knots ooze when warmed by the sun. Red pine is the worst offender by far, but white pine will ooze some sap when moisture levels are high. For these reasons, we typically recommend white pine for interior log siding.
Northern Log Supply offers both white cedar and white pine log siding.
Smooth vs. Hand Hewn
Smooth and hand hewn logs can greatly impact the style of your log home, so it's important to pay attention to their aesthetic differences. Most log homes are created with either smooth or hand hewn logs, so it's really up to your style preferences to make the decision.
Smooth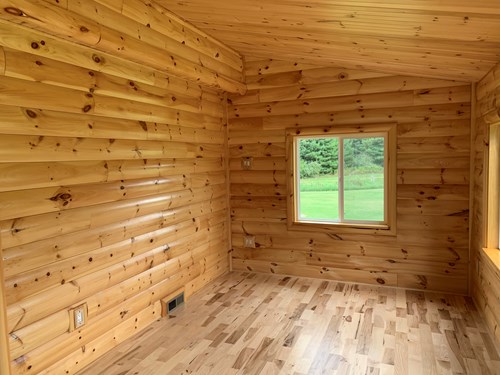 As the name suggests, smooth log siding produces a nice clean cut and milled look. If you want a polished finish, then smooth log siding is best for your home.
Hand Hewn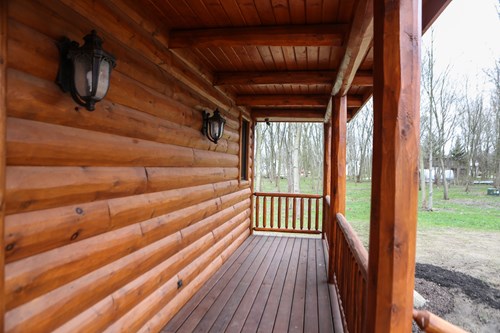 Hewn log siding has a hand-peeled look that gives a log home a beautiful, natural ambiance. Many choose hewn log siding because of its rough quality and coarser, more authentic look.
Full Scribe vs. Chinking
Next, it's time to think about how the logs will be installed. Different installation techniques produce different looks. There are two primary ways that log homes can be built: full scribe or chinking.
Full Scribe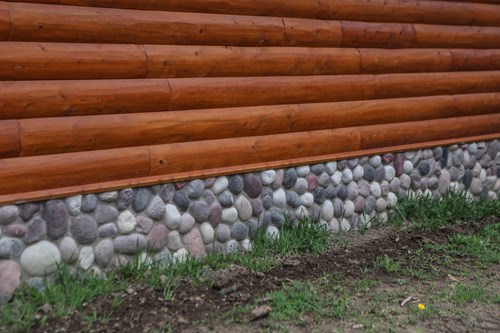 Full scribe log homes are made by stacking logs horizontally to form the exterior and interior walls. Typically, grooves are cut out on the underside of each log, so it fits together like a puzzle piece with the log underneath. Since each log fits together perfectly, there is no caulking or material in between the logs on the exterior of the home.
Chink Style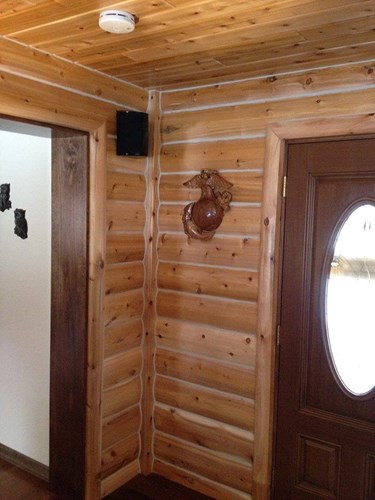 When building a chink style log home, the logs are stacked on top of one another and joined together at the corners with notches. Since the logs have not been scribed, or cut to fit on top of one another, chinking is used to seal the gaps in between each log. Chinking provides a rustic look that is clearly visible between each log. Keep in mind, any chinking that is exposed on the exterior may need reapplication or sealants to protect the material.
Full Size vs. Half Size Logs
Whether you choose hand hewn or smooth logs, full scribe or chinking, you'll still have to choose the size of your logs. Here are a two different sizes to consider for your log siding:
Full-Size Logs
Full-size, round-shaped logs create a massive log home look. These logs provide a natural, rustic feel on the interior, as the interior walls will match the exterior, with round wall faces on both sides. For full-size logs, Northern Log's Paul Bunyan Siding is milled to 4" x 10".
Half Size Logs
For a more cost-effective option, half-size logs can provide the full log home look, but for half the cost. With half-size logs, the full, round wall face is visible on the exterior with the flat log face on the interior. Our half log siding can be milled to either 3" x 8" or 3" x 10".
Saddle Notch vs. Butt and Pass vs. Vertical Corners
It's important not to forget about the corners when considering your log home style. While there are a number of ways to join exterior walls together, some popular styles of log home corners include vertical corners, saddle notch corners, and butt and pass corners.
Saddle Notch Corners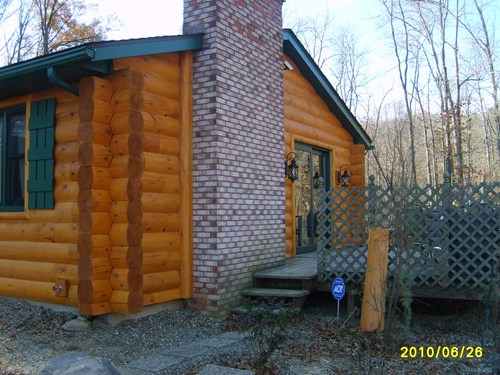 If you've ever played with Lincoln Logs as a child, then you're already familiar with this log home corner style. As the name suggests, a saddle-shaped notch is carved into the bottom of the log, so it fits snugly on top of the log below it.
Butt and Pass Corners
For a traditional log home look, this corner style gets its name from how the logs are joined together. Alternating as you go up the wall, one log butts up against the other, while the other log passes the corner, sticking out on the side.
Vertical Corners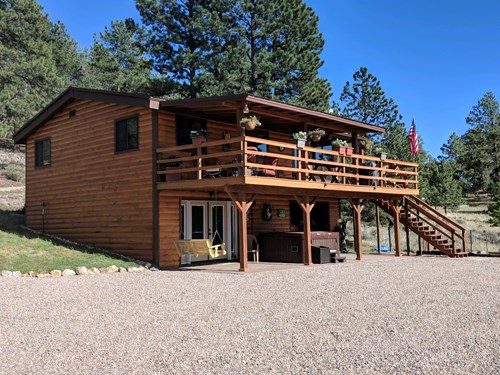 Also referred to as a corner post, this is the only log home style that doesn't rely on the logs to overlap. Instead, a vertical post is used to join the two walls together, creating a straight, clean look on the exterior.
Wood Finish vs. Stain
Just when you thought you were done, there's one more choice to make: your log finish or stain. You'll want to think about your log finish or stain prior to installation, as you can have the logs pre-finished or pre-stained to cut your expense and installation time. In case you're confused about the difference between a stain and a finish, this simple explanation may provide the clarity you need to make a decision.
Wood Finish
A wood finish is a clear coat that enhances the log's natural beauty and protects your wood. Our borate treatment (used in both our finishes and stains) can deter insects and mildew.
Wood Stain
A wood stain has a color or pigment, allowing for greater customization of your log home style. Northern Log uses several different lines of stain and can help you choose your best stain based on your location and UV exposure.
Building Your Log Home
As you start to build your dream log home, you'll have a lot to consider. Pine or cedar log siding? Smooth or hand hewn logs? Butt and pass or saddle notch corners? From selecting your dream log home style to selecting the wood to choosing the right corners, Northern Log Supply is here to help with all your log home needs. We can even help with installation! Contact us today for advice on selecting the right wood, finish, and features for your home.