Hardwood Wall Coverings Offer Elegant Durability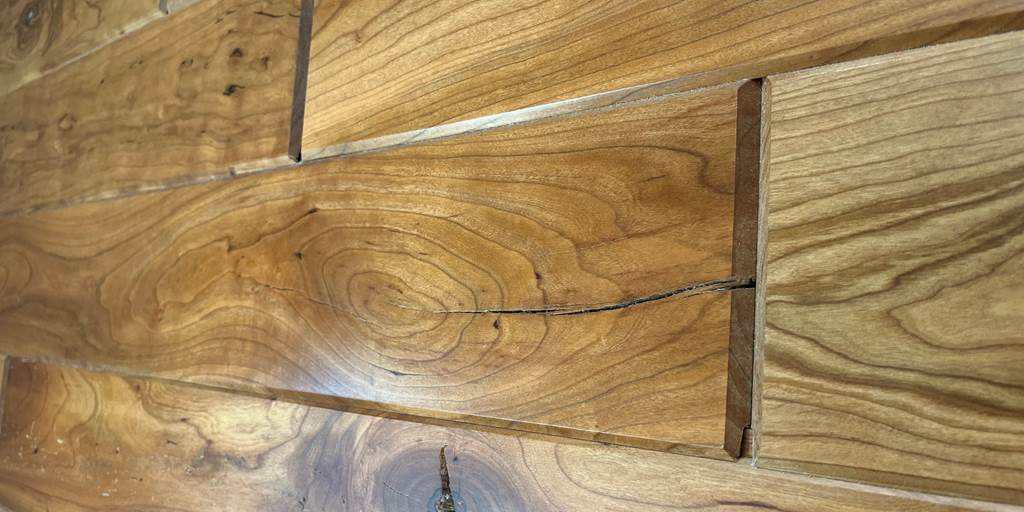 For interior spaces imbued with warmth, beauty, and charm, hardwood wall coverings check all the boxes.   
For a long time, wood paneling had a bad reputation, with some associating it with dated and musty parents' basements or that old den your grandfather loved. But modern wall paneling is a seriously stylish decorating detail that brings additional texture, increased dimensional feel, and infused character to a room. When it comes to the best that wood paneling can offer — whether for a log home, cabin, or as a beautiful touch to any property — hardwood wall coverings represent an optimal choice.
Remember, wall paneling isn't limited only to wood that covers an entire wall. Want a historical touch? Use wood to add a chair rail or wainscoting panels. Need a centerpiece for your kitchen? Add distinctive wood paneling elements to your kitchen island. Design welcoming entryways for your mudroom and foyer, or use vertical planks to accent a fireplace. 
The uses for hardwood wall coverings are many. Given the inherent characteristics of the material, this allows for the addition of lustrous visuals and finishes in a nearly infinite capacity. But how does hardwood paneling differ or go beyond traditional wood paneling? Today we're shining a spotlight on our hardwood paneling options and how they differ from traditional wood paneling. 
High-Quality Wood, Direct from the Forest: Connect with our team at Northern Log to learn how we source and deliver beautiful natural wood products. 
Why Choose Hardwood Wall Coverings?
The biggest benefit in deciding to use less off-the-shelf hardwood options for paneling is easy to identify: the look. Exquisite hardwood paneling and decorative wall panels are crafted with an eye on bringing nature's elegance into your home, office, or commercial space. You'll find endless varieties in texture, style, and color so you can find the exact match for your vision and style choice. 
Beyond the purely aesthetic appeal, hardwoods offer practical reasons to serve as a paneling choice as well.
Durability — While all wood paneling brings a certain measure of added durability — when compared to drywall — certain hardwoods add even more toughness. They are exceptionally resistant to wear, ensuring they'll retain their appeal even in high-traffic areas and hold up against the test of time. 
Unique Grain Patterns — All hardwoods have distinctive grain patterns and can vary greatly between different species and with staining choices. These variations craft a sense of organic depth to your space and empower your home to tell its own unique story.
Versatility — Besides the many uses, some of which we touched on earlier, hardwoods can seamlessly adjust to whatever motif or look you're trying to capture. Want to go rustic? Check. Traditional? Hardwoods are a natural choice. Contemporary? No problem, as wood paneling continues to emerge as a popular design choice. 
Need Another Unique Paneling Choice? Learn all about Blue Stain Pine and how its traits can breathe new life into your next paneling project. 
Hardwood Wall Coverings: Three Beautiful Paths to Pick From
Northern Log Supply provides only the highest quality wood wall panels harvested and milled locally from the woods of Michigan, then shipped to you. No order is too big or too small. We supply residential, commercial, and wholesale customers with our tongue and groove paneling.
Our expert craftsmen can help throughout the process from measuring to ordering through shipping and installation. We can even walk you through different paneling implementation options. 
Our line of hardwood wall coverings is ideal for sleek and stylish design choices and brings all the durability you'd expect from high-quality hardwood. We provide hardwood paneling in three different species — White Oak, Cherry, and Maple. 
White Oak
With prominent grain patterns and light colors, White Oak provides a classic and timeless look that fits a wide range of design styles. Coverage dimensions come in both 1x6" and 1x8" and board lengths run from 2 to 10 feet. All of our staining options are available with this product, which features a Nickel Gap profile.
Cherry
Cherry wood is synonymous with warmth and has long been prized for its ability to create inviting spaces. A natural luster, fine grain, smooth texture, and even grain patterns lend a luxury feel. With Northern Log, you can add any of our stains for further customization to this hardwood's Beveled Edge profile. Cherry is available in 2 to 10-foot board lengths with 1x6" and 1x8" coverage dimensions.  
Maple
Maple is made to be customized with stain as the wood has a natural ability to take on a wide range of finishes easily, from clear to dark. This characteristic makes this hardwood fitting for traditional and modern interiors alike, where its smooth texture and uniform grain are sure to impress. With a Center Match profile, Maple is available in board lengths of 2 to 10 feet and coverage dimensions of 1x6", 1x8", and 1x12".
Dated No Longer:  Learn some helpful tips to make sure your wood paneling, no matter your choice, fits in with any modern decor choice. 
Want Wood Paneling? Turn to Northern Log Supply 
At Northern Log Supply, we cherish the enduring beauty and versatility of wood for building homes, cabins, and commercial spaces. For years, we have proudly provided the log siding, paneling, trusses, trim, and lumber that breathe life into your vision. We are dedicated to sharing our passion for wooden building materials and their limitless possibilities — often for a better price than you'll find in the big box stores. 
Contact us today to learn more about hardwood wall coverings and how we can use them to give them the interior space you want.