How to Prepare Your Log Cabin for Winter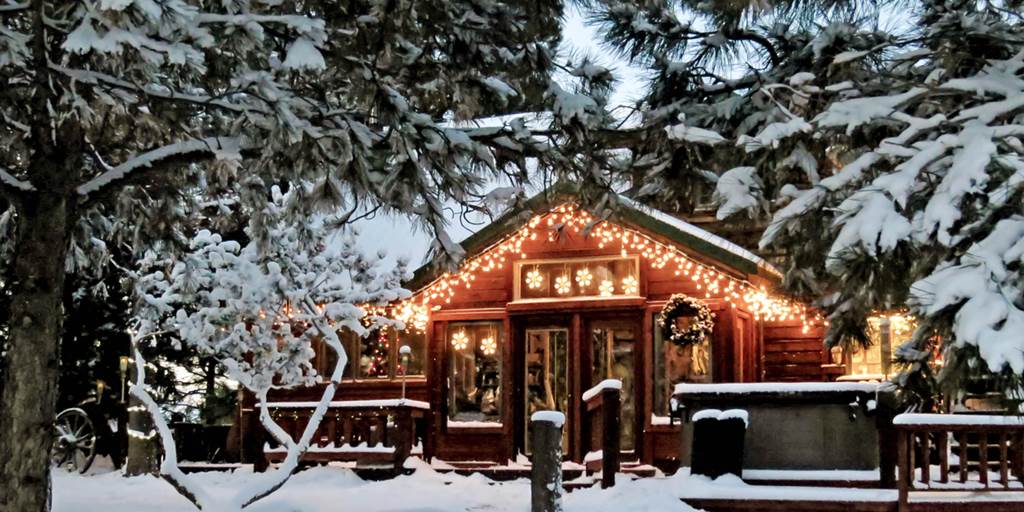 With the colder months just around the corner, it is time to prep your log cabin to withstand the harsh conditions of winter. Without routine maintenance, freezing temperatures, harsh winds, and heavy snowball can wreak havoc inside and outside your log home.
In this article, we walk you through the necessary steps to winter-proof your log cabin —whether you live there year-round or use it as a seasonal vacation home— so you can avoid costly surprises, unnecessary damage, and headache.
How to Winterize the Outside of Your Home
When you perform and inspection around the exterior of your home, you will want to look for signs of wear and damage. Pay close attention to your chimney, gutters, log siding, and roof.
Chimney
One of the very first things you will want to do when winterizing your cabin is protect your chimney from mice, insects, birds, and moisture. Even the smallest opening can become an easy entrance from pests and damaging water.
Inspect your chimney and make sure there are no open gaps or holes. Replace damaged chimney caps and check that your flue is working properly. If necessary, enlist the help of a chimney sweep to ensure there is no excessive build up of soot or debris that could be inhibiting your damper from closing.
Gutters

Just like any home, debris build-up in gutters that goes unchecked for too long can lead to expensive damage and repairs down the road. Before winter, you will want to spray down your gutters and downspout with water to clear away leaves and dirt. Not only will this cutdown on spring cleaning, but it also prevents winter snow and water from damaging the exterior façade of your home.
If you haven't reapplied any sealant or stain in the last few years, now is the time to do it. Wood sealants are specially formulated to prevent moisture damage, chinking, and drafts from affecting your home.
Typically, you need to apply stains anywhere between 45 degrees and 90 degrees. Any colder and you risk frost and ice interfering with the adherence of the stain. In addition to reapplying sealant, you will want to caulk and large chinks and cracks to prevent moisture and cold air from entering your home.
Roof
The roof of your log cabin is singlehandedly one of the most important features to inspect and repair before winter weather is in full swing.
Make sure to note and replace any missing or damaged shingles to cut down on drafts and moisture damage. If your local temperature falls below 32 degrees Fahrenheit in the winter months, you may also want to consider adding extra insulation to inhibit warm air from causing ice dams and damaging icicles to form on your roof.
How to Winterize the Inside of Your Home
Winterizing your home is more than repairing exterior wear and tear. There are plenty of preventative measures you can take inside your log cabin to make sure that come summer you don't walk into any surprises.
Prevent Frozen Pipes
If you are closing up your cabin for the winter, you will want to shut off your water supply to avoid costly damage to your pipes and interior spaces.
To prevent your pipes from freezing you will want to:
Shut off your water supply
Drain the pipes and hot water tank
Blow out the pipes
And apply antifreeze to all available drains.
Get Rid of Pests
Pests, especially rodents, are one of the primary sources of damage to the walls and structure of your cabin. Fill in any holes, gaps, and unnecessary crawl spaces to eliminate the potential for pest damage while you are away.
Insulate Your Cabin
Heat retention is one of the best ways to help keep dampness and cold drafts at bay. Proper insulation can also result in lower utility bills for those planning on living in their log cabin throughout the winter.
Check your walls, doors, windows, basements, and attics for cold drafts and air leakage. These may feel like costly repairs now, but proper, thorough insulation is the best way to ensure you and your family can enjoy winters at the cabin for years to come.
Want More Tips from the Experts?
Northern Log Supply has been sourcing, designing, and building log cabin structures for over 20 years. Our expert craftsman create timeless paneling, railings, log siding, barn wood siding, trusses, staircases, doors, and custom and milled wood products to ensure your home is as beautiful as it is durable.
If you need help winterizing your log home, call us. We are here to lend a helping hand so you can sit back and relax this winter season.