5 Log Cabin Kitchen Design Ideas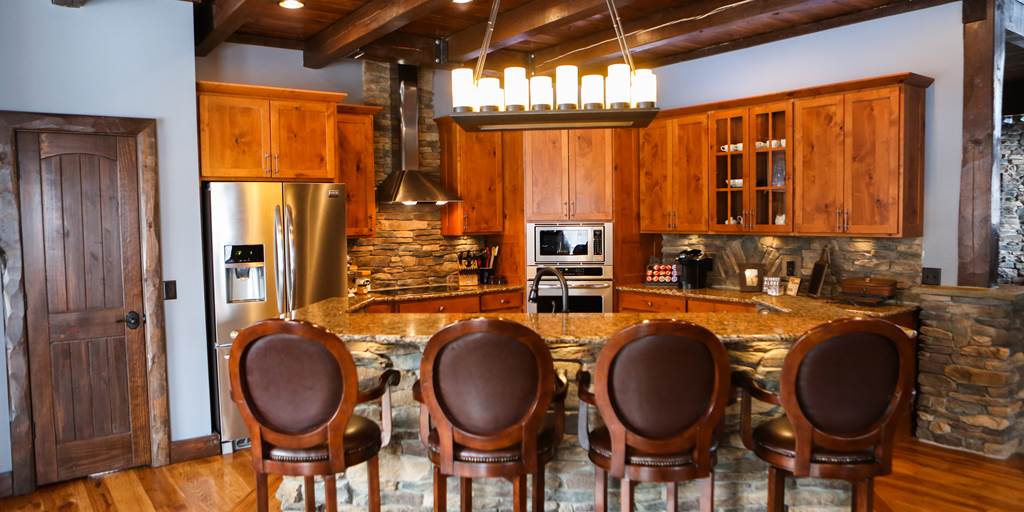 When it comes to log cabins, the saying, "the kitchen is the heart of the home," couldn't be more true. Your log home kitchen is more than just a place to whip up a quick meal; it's also your gathering place—the place where you pack a picnic lunch before a hike through the woods, enjoy a nice family meal after a long day, and share stories late at night with old friends. Whether you live in your log cabin year-round or just stay for the summer, it's important that you put some thought into your log cabin's kitchen design.
From modern lake house setups to the more rustic cabin kitchens traditionally found in log homes and cabins, it can feel like there is a seemingly endless variety of kitchen designs and styles to choose from.
Need some log cabin kitchen ideas? We have pulled together some examples of the great log cabin kitchens our customers have built to showcase the versatility and creativity of our handcrafted wood products. Keep reading to see how stains, trims, cabinetry, and even wood species can impact the look and feel of your log cabin kitchen.
Looking for materials to complete your current kitchen project? Explore our product catalog.
LAKE HOUSE KITCHEN WITH BARN WOOD SIDING
This unique take on a lake house kitchen is filled with rustic charm. The large kitchen island adds a pop of color that immediately draws your eyes into and around the room. Meanwhile, the white kitchen cabinets provide a nice contrast to the rustic look of the weathered, circle-sawn barn wood siding. Just imagine sitting down for a meal at the picnic dining table after spending the day swimming in the lake.
Open Concept Kitchen with Stone Backsplash
Open concept kitchens are all the rage right now, especially for people who love to entertain or have big families. Close friends and family of Northern Log Supply will likely recognize this as Owner Peter Green's kitchen. This kitchen features granite countertops with a stone backsplash. The large kitchen island has a farmhouse sink, as well as a raised bar top that seats four people—perfect for grabbing a quick bite. The picnic dining table, drenched in natural light, is where Peter, his wife, and his four children enjoy many family meals together.
Large Kitchen with Diagonal Cedar Paneling
This big, cozy kitchen features a number of elements that make it one of our favorites. On the walls, this customer installed our 1x8 cedar paneling, but with a modern twist: the wood is installed diagonally. Wood cabinetry and a large kitchen island fill up this room. A raised bar top that seats five features a live edge wood slab for added flair.
Open Concept Kitchen with Knotty Pine Cabinets
Here's another open concept kitchen that one of our customers built. While we can't take credit for supplying the wood for this kitchen, we did supply the wood paneling, log siding, trim, milled logs, and log railing throughout the rest of this Wisconsin log home.
Check out the knotty pine kitchen cabinets with marble countertops in the photos below.
Dark Wood Kitchen with Chestnut-Stained Log Siding
Compared to some of the other kitchens we've seen, this customer opted for darker tones with their kitchen that gives it a warm, cozy feel. Our 2x8 pine log siding and 3x4 D-trim, pre-stained in chestnut, is balanced with light marble counter tops. The antler chandelier over the round kitchen table adds the perfect finishing touch to this log cabin kitchen.
The Ingredients to Design Your Dream Log Cabin Kitchen
As you can see, there are many different styles to consider when remodeling your kitchen or building one from the ground up.
Need help bringing your log cabin kitchen ideas to life? Whether you want to go with a more modern look or rustic route, we can help you create a natural, beautiful ambiance with our unique wood products, sourced right here in the United States. We have a variety of log styles and wood stain colors to bring your kitchen to life, including barn wood backsplash, wood paneling ceiling, and shiplap walls.
Contact us today for advice on selecting the right wood, finish, and features for your log cabin kitchen.