Exploring Douglas Fir Structural Properties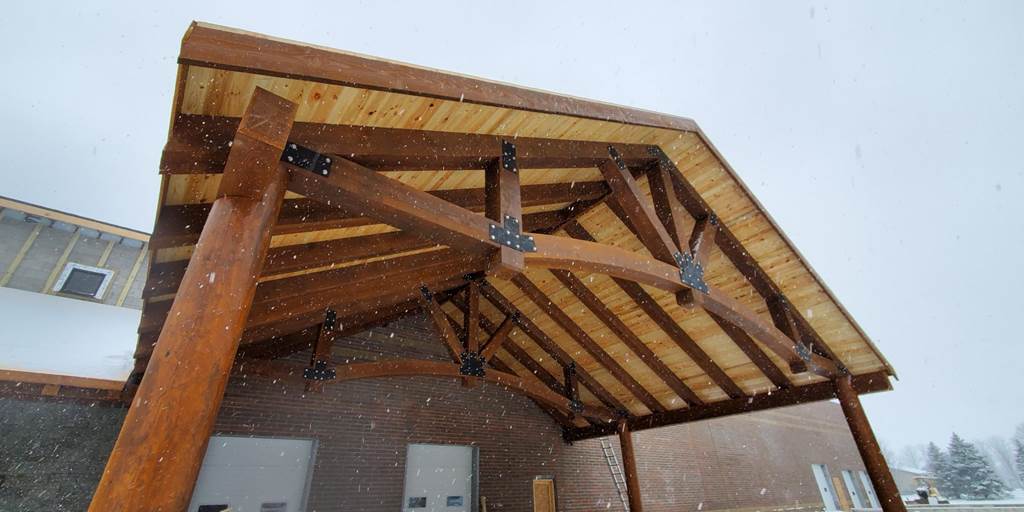 Few wood species provide the construction support found with this top selection for beams and trusses. 
From providing resiliency against the elements to critical construction support, Douglas Fir structural properties position this wood species as an important cog in designing and implementing building projects. Known for its durability and strength, Douglas Fir is a popular choice for both indoor and outdoor construction and renovation. 
Although Douglas Fir is classified as a softwood, it's one of the toughest and most versatile softwoods available. For instance, Douglas Fir doesn't readily expand or contract with changes in the weather and is less water-permeable than other softwoods. The 'waterproof-like' nature of the wood makes it a superb choice for doors and windows.
Douglas Fir structural properties go beyond its ability to act as a good seal against moisture. It grades out highly among softwood lumber for its ability to bend and its capability to successfully hold screws and nails. Let's examine more uses for Douglas Fir and how its properties differentiate it from other wood choices.
Raise the Roof, Close to Home: With locally-sourced Michigan trusses, your log home or commercial project can realize savings and avoid longer lead times. 
Douglas Fir Holds Up, Indoors and Outside
Most kinds of residential structures — from homes to garages and barns — and commercial properties as well, rely on trusses to transfer the weight of the building's roof to the walls and the foundation. Trusses come in many shapes, designs, and styles, but Douglas Fir structural properties have elevated the wood to a common selection for these elements. These traits include:
A near-perfect weight-to-strength ratio
Excellent tension parallel-to-grain
Strong garage in horizontal sheer strength and compression
Reasonable price-point
Year-round availability
Outdoor Support
The resiliency of Douglas Fir helps make it resistant to damage and abrasions, which is a key consideration to exterior use. Coupled with its water resistance, the wood stands up well to weather that can prematurely damage and age other varieties of timber. 
This means Douglas Fir custom timber beams can be used to provide the proper structure support, and longevity needed for eye-catching external areas on commercial properties. 
Decorative Timber
Douglas Fir gets plenty of attention for its practicality, but it doesn't lack aesthetic appeal either.  With a distinctive long-grain pattern and warm, amber coloration, this wood is a good match for decorative accents and finishes. 
A good example of this visual impact, delivered while still providing structural support, can be seen in this recent project by Northern Log. The Sage Creek Winery added an outdoor seating area to its historic Masonic Temple building and Douglas Fir beams were used to tie together the two separate elements. 
Make the Most of Douglas Fir Structural Properties with Northern Log
Northern Log is the ideal choice to supply all the products that make use of the inherent strengths of Douglas Fir. Our team of skilled craftsmen, working at our family-owned lumber mill in Mayville, Michigan, strive to deliver the clean, textured beams and trusses required for your project. With Northern Log and our re-sawn texturing capabilities, you won't have to deal with the dirt, black marks or other substandard finishes that can be common with other Douglas Fir suppliers.
Because we control the entire process from harvesting to delivery to your site we're able to sidestep many of the long lumber lead times that prove problematic for many other suppliers. With complete pre-finishing and pre-staining capabilities as well, we're able to keep your project on time and on budget.
Contact us today to learn more about our Douglas Fir and other wood products. We're here to help you build your vision.