Get the Weathered Wood Look Without the Hassle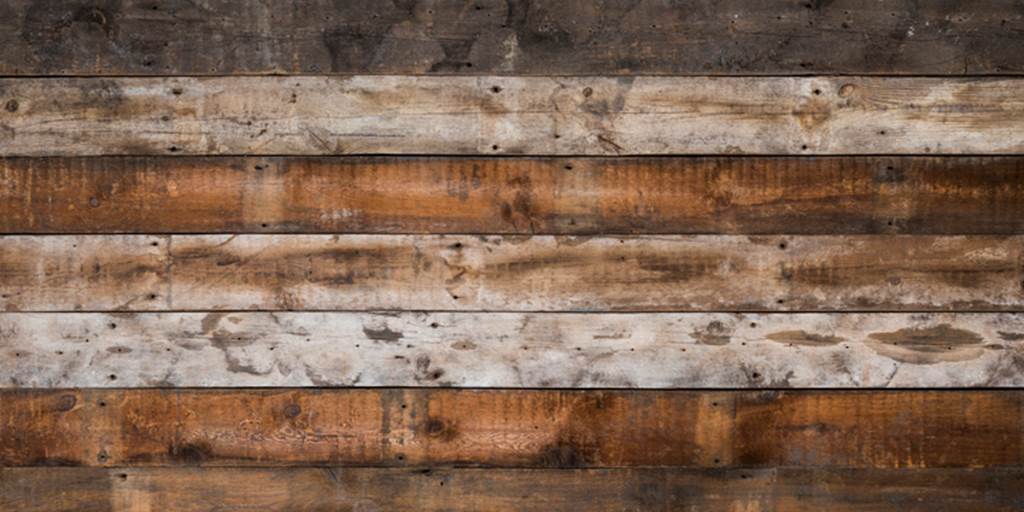 Aged and reclaimed wood looks terrific, but comes with issues. Now you can get the look — without the worry. 
The weathered wood look is experiencing a bit of a renaissance, with the rustic charm and character of aged, distressed, and reclaimed wood ranking high among consumers for both exterior and interior design. Weathered wood exhibits a classic, natural beauty — from time-worn beams and trusses to textured siding and detail-laden accents — that takes pride in slight imperfections instead of trying to hide them.
The weathered wood look is a key component of shabby chic decor, which seeks to evoke an antique farmhouse vibe. Achieving the look can be accomplished through the use of reclaimed wood, or by distressing new wood — a crafting process that treats the wood to create a vintage appearance. 
Reclaimed wood is a hot commodity for distinctive designers, but comes with challenges. Reclaimed lumber will have discoloration, scratches, and other natural degradation that can make it hard to work with. It will be inconsistent — rough walls, curved boards, and the like — and is more expensive to obtain than new lumber. Its durability will be less than new lumber, given its previous exposure to the elements and potential insect or decay damage.  
Lastly, because of its expense and very nature, supplies of reclaimed wood will be varied and unreliable. You may find some with a particularly pleasing look, but then discover there is not enough of it to finish your project.
But with distressed wood — made from newly milled lumber — you can replicate the weathered wood look without the worry that comes with sourcing reclaimed lumber. Distressed wood is new lumber handcrafted to mimic the character and style of reclaimed wood. Special staining, sawing, and sanding perfectly recreates a realistic patina that mimics the look of weathered wood.
More difficult than you think: Reclaimed barn wood looks terrific, but comes with a host of challenges all its own. Learn more here. 
Multiple Avenues to a Weathered Wood Look
Northern Log Supply has delivered the dream of owning a log home to customers for more than 20 years. We know what works, what doesn't, and what clients — both commercial and residential — are looking for. A common challenge is that the look and feel of reclaimed wood is preferred for projects both big and small, but relying on reclaimed wood can be frustrating given the points outlined above. 
But with our Weathered Wood line of products, customers can enjoy the weathered wood look and feel without those concerns. While these products look aged — with handcrafted distressing, weather checks, and antique-styled cutting marks — they are all produced from 100% new pine lumber. 
This specialty wood line comes with the appearance you want, and none of the concerns about durability due to previous exposure to pests, mold and mildew, or rot and decay. And because it's new lumber that is continuously being harvested, you'll never run out. You'll always be able to get more of a specific look to complete a project. Here's a quick look at our many different styles.
Antique Hewn
This replicates the look of aged timber or logs that appear to have weathered decades in the elements. Using mild abrasions and horizontal grain breaks, we're able to craft an old axe-hewn look that evokes character and history. This rugged appearing product can be used both inside and outside, and comes with modern touches, including tongue and groove for installation. It comes 1x12 milled, with a bevel edge at horizontal joints and is available in lengths of 8-12' with square end matching at butt joints. 
Antique Circle Sawn
With cuts that replicate those of old circle-sawn sawmills, this line of Weathered Wood features a detailed texture that is enhanced and magnified with a stain or finish. Coupled with our Weathered Circle Sawn wood, you can create authentic barn wood replicas without the mess or inconsistency. Milled with a square horizontal edge, this line comes in 8" wide boards in lengths running 2-12' and end matched. Blind nail application and tongue and groove capability help installation.
Weathered Circle Sawn
This product also uses the distinctive circle sawn texture and adds a weather-checked effect to give you a look that appears to have been pulled straight off a century-old barn. Suitable for use on the exterior and interior, this wood comes with tongue and groove installation and blind nail application. It is milled out at 1x12 in lengths of 2-12' and is end matched.
Vintage Barn Wood
This combines the looks and advantages of both our antique and weathered circle sawn wood to create an authentic barn wood appearance. Mixing different sizes and colors creates a look that is as close as possible to real, aged, barn wood — but without the threat of ever running out of supply. Milled from 8" material, our Vintage Barn Wood comes in lengths of 2-12' and all the joints come square edged.
Antique Hewn Chink Siding
Chink siding was used more than a century ago as a gap-filler, and typically was implemented to block air leads in original pioneer-style log cabins. We replicate that rustic weathered wood look here with antique axe-hewn cuts and distressed horizontal weather checks. Available in lengths of 6-16' and milled from 12" stock, our antique hewn chink siding features blind nail application and can be used for both interior and exterior projects. 
Rustic definitions: What's the difference between distressed and reclaimed wood? Learn more in our recent blog.
Trust Northern Log Supply to Create a Perfect Weathered Wood Look
Northern Log Supply is a family-owned lumber mill headquartered in Mayville, Michigan and we source our wood products — everything from log siding and paneling to trusses and trim — from the woods in our home state of Michigan. We bring high-quality products directly to you without middlemen or a mark-up. Our expert craftsmen are involved in the entire process, from harvesting to delivery, and saw, dry, mill, and pre-finish your wood products to order. 
Because of this process, we're able to sidestep many of the long lumber lead times that are hampering many other suppliers. We're able to deliver log siding products, including paneling, in less than a month. Many of our options come in as little as two or three weeks. Our natural wood products are backed with reliable customer service and are shipped straight to you via our own fleet of trucks and trailers, streamlining logistics. We also partner with the top wholesale distributors of specialty lumber and building materials across the country. 
As you start to build your log cabin or home, or commercial project, we can offer assistance with installation. With our in-state lumber sourcing, in-house production facilities, and commitment to quality and communication, you'll be able to keep your project on schedule and enjoy the benefits sooner. Getting an authentic weathered wood look has never been simpler; let us know what style and color you're looking for and our team handles the rest. 
Contact us today to learn how we can help you with your next log home project. We're here to help you build your vision.