Rustic Design: Reclaimed Wood vs. Distressed Wood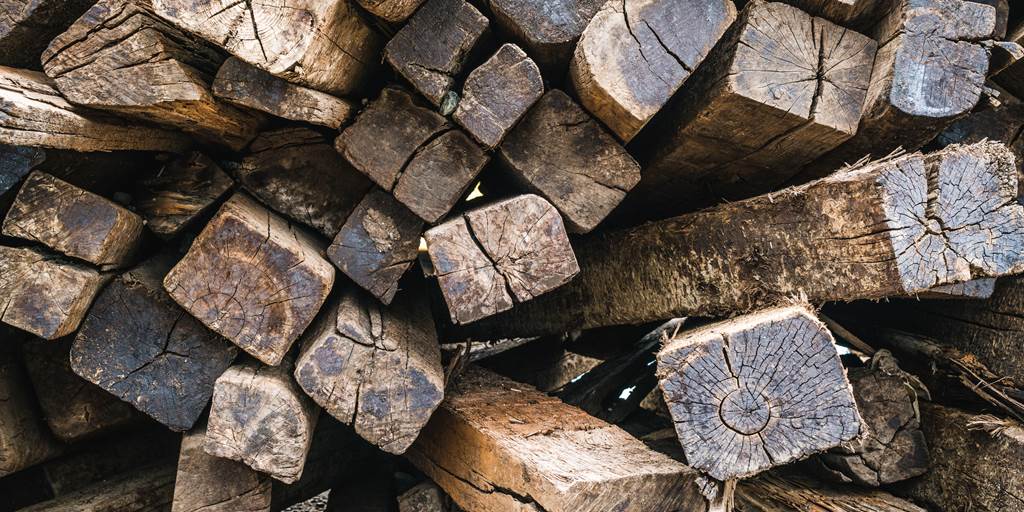 There isn't much that can evoke the feeling of a warm welcome quite like a rustic log cabin. The inviting, natural beauty of pine, cedar, and douglas fir brings a touch of the outdoors in and creates the perfect backdrop for family dinner, birthday celebrations, and cozy nights beside the fireplace.
Here at Northern Log Supply, we have helped people make their dream of owning a log home a reality for over 20 years. Throughout that time, we have quickly learned what works and what doesn't. One question we hear time and time again from people who want to build a log cabin is, where can I buy reclaimed wood? We get it: reclaimed wood is beautiful. It adds a rustic charm that brand-new wood planks just don't seem to replicate. However, actually working with reclaimed wood can be more difficult than you think.
In this blog post, we break down what reclaimed is and how distressed wood may actually be a better option for your next renovation project.
What is Reclaimed Wood?
There is no denying that reclaimed wood, sometimes called salvaged wood, is and will continue to be one of the most popular building materials for achieving a rustic design look and feel. Its textured, aged appearance adds a touch of personality to any space. What is reclaimed wood though, and where does it come from?
Simply put, reclaimed wood is material that has been previously used. Whether it was a barn floor or the original beams in an old church, the main characteristic of reclaimed wood is that it was salvaged from another project in order to be repurposed.
Popular sources of reclaimed wood are:
Reclaimed barn wood siding
Salvaged factory floors
Repurposed fences
Recycled wine barrels
Salvaged driftwood
Why is Reclaimed Wood Hard to Work With?
As you can imagine, when you use repurposed material—whether it be wood, fabric, or metals—you have to account for natural wear and tear. A plank of reclaimed wood will have significantly more imperfections than freshly milled lumber. Discoloration, scratches, dents, and natural degradation of the wood can make it particularly hard to work with.
The inconsistency of reclaimed wood means if you choose to build with it your floors may have tripping hazards, your walls may be rough to the touch, and your unique decorative home accents may appear stained or damaged. These potential pitfalls and repairs can be costly considering most reclaimed wood is oftentimes considerably more expensive than standard lumber.
So, what do you do if you want the character and charm of reclaimed wood without the risk and price tag?
What is Distressed Wood
Distressed wood is new, recently milled lumber that has been handcrafted to mimic the character and style of reclaimed wood. Special staining, sawing, and sanding perfectly recreates a realistic patina that mimics the look of weathered wood.
There are multiple benefits of using distressed wood over reclaimed wood for your DIY projects and home renovations. For one: consistency. If you want the unique look and feel of reclaimed wood but need your planks to have a more uniform style and texture, distressed wood is the way to go. At Northern Log Supply, we offer multiple different colors and surface textures of pine lumber so our clients have several options of "aged wood" to choose from.
Durability is another important factor to consider when you are deciding whether or not to build with reclaimed wood or distressed wood. By choosing distressed wood, you get to take advantage of modern milling and manufacturing techniques that can extend the life of your lumber. In contrast, reclaimed wood has most likely been exposed to water, insects, dirt, and debris. These factors make it hard to determine how much longer that lumber can last before it needs to be replaced.
Lastly, another benefit of distressed wood is its price. Reclaimed wood is significantly more expensive than distressed wood due to supply and demand pressures. It takes a significant amount of time and effort to source, salvage, prep, and distribute reclaimed wood. Distressed wood, on the other hand, offers the same rustic look without the added labor costs.
How to Use Distressed Wood
Unlike reclaimed wood, distressed wood can be used anywhere where traditional lumber is used. Some of the more popular applications we have seen from our customers are:
Add Character to Your Log Cabin
If you're ready to build a rustic log cabin of your own, we are here to help. Our experts can assist with everything from the initial planning to the final build.
Our wide selection of distressed wood means you can create the farmhouse look and feel you have always dreamed of, at a price that everyone can feel good about. Contact us if you are ready to get started.