Stained Wood Paneling and Log Railing Supplies Add Distinctive Touches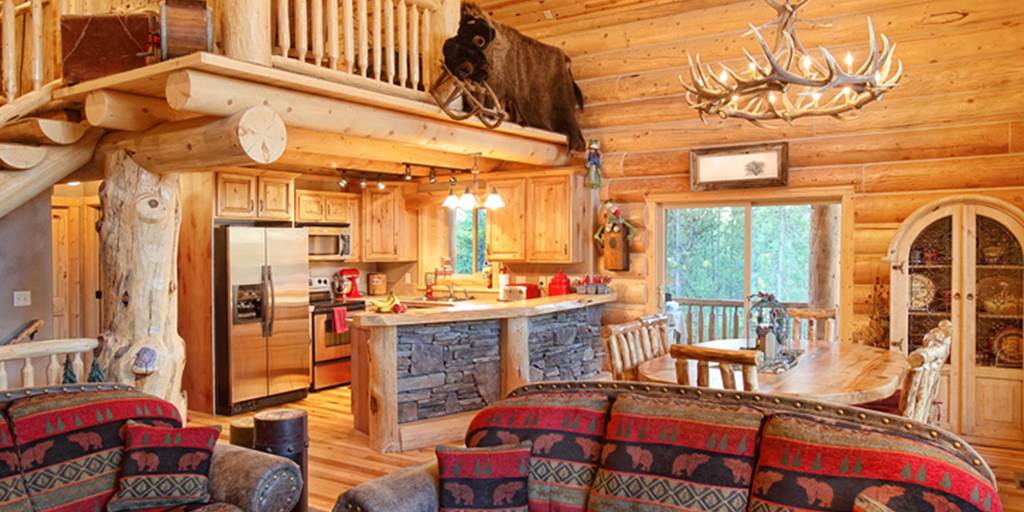 Implement the looks you want, without the unnecessary wait or hassle. 
It's no secret that stained wood paneling and assorted log railing supplies can infuse your interiors with depth, warmth, and natural beauty that enhance the enjoyment of your home, weekend getaway, or even commercial property. Often seen as an integral part of full new construction, wood paneling and log railings don't have to be limited to only large projects or top-to-bottom renovations, however.
With the right natural wood product partner, you can quickly access elements like wood paneling and hand-crafted cedar log railings to enhance your interiors when you see fit. You shouldn't need to wait until your next major project, or deal with unwieldy lead times, to incorporate natural wood features into your property. 
Ongoing Supply Chain Disruptions and How We've Overcome Them
Acquiring real wood building products has become a challenge in the last two years as pandemic disruptions, supply chain challenges, unprecedented wildfires in the western United States, and more have played havoc on wholesalers, distributors, and retailers. This has increased both the price to build a new home — according to the National Association of Home Builders, the price of a new single-family home was up nearly $36,000 — but also increased lead times greatly. 
Ordering and receiving timber and lumber used to be gauged in a matter of weeks. Now, for many providers, that time has stretched into a number of months. Even the nation's second-largest home builder, Lennar, has increased lead times more than a half-dozen times for example. 
Logistical issues have persisted, even as the record lumber prices have receded. It means those looking to add impact to their homes and properties with natural wood — through stained wood paneling or log railing supplies for instance — need to consider a partner's capacity to deliver on time and on budget more than ever before. 
Let's examine why and how Northern Log Supply is the natural wood product supplier you need today.
Tackle Long Lead Times: Northern Log Supply helps you find relief from long lumber lead times. Read more about how we do it here. 
A Leader in Quickly Delivering Stained Wood Paneling and Log Railing Supplies
Northern Log Supply has remained more resilient to longer lumber lead times, even as many other providers have succumbed to the dynamics of the environment. How? Northern Log Supply sources its wood products — from log siding and paneling to trusses and trim — from the forests in our home state of Michigan. We remain a family-owned lumber mill headquartered in Mayville, Mich., and control the entire process — from harvesting to delivery to your site. 
By taking ownership of the entire process, we're able to bring high-quality pine and cedar directly to our customers without middlemen, mark-ups, or extensive lead times. We have log railing supplies and stained wood paneling in stock, for example, knocking off the acquisition time other suppliers may be dealing with. With Northern Log Supply, you can receive log siding and paneling in less than a month, and many other options can be delivered in as little as two or three weeks. 
Keep Your Project On Track – Even With Customization
Beyond our ability to deliver on a schedule sure to keep your project on track, Northern Log Supply also offers options to customize your order. You're not simply ordering off the shelf, you'll have the ability to add the colors and textures you desire to make your ideal design a reality. 
At Northern Log, our cedar log railing supplies come outfitted with enough stylistic choices to guarantee you'll have something all your own. You can choose from standard lengths, or custom lengths, to outline your deck, finish off a loft, or accent an interior or exterior staircase. Whether you want something classic or traditional, or ruggedly rustic like our hickory spindle option — or even 'modern rustic' with rebar or black bar spindles — Northern Log Supply has you covered.
Fast, and Easy, Installation
All of our wood paneling comes with tongue and groove and end-matching features, to make even self-installation easy and straightforward. Whether you're designing a whole interior, an accent wall or feature, or redoing the ceiling for a more cohesive motif, our experts can walk through measuring, choosing the right species, finishes, and more to make you get the exact look you want. 
At Northern Log Supply, when you order any of our products prefinished or pre-stained, you'll add more customization options, cut your expense, and lower your installation time. Most clients save more than 50% in costs when choosing prefinishing compared to having a contractor do so after installation. 
All interior prefinished wood products receive two coats from our automatic sprayers, with sanding between each, to give them a smooth, professional finish. With more than a dozen in-house developed finishing solutions, from Clear Coat to Dark Tea, you'll be able to find the right color. Request a free sample to see your stain on the same type of wood you'll install. 
Stay Modern with an Aged, Vintage Look
Finally, with our Weathered Wood line of products, customers can enjoy the aged, natural look — with handcrafted distressing, weather checks, and antique-styled cutting marks — but on products made from 100% new pine lumber. 
This specialty wood line comes with the appearance you want, and none of the concerns about durability due to previous exposure to pests, mold, mildew, or rot and decay. Because it's new lumber that is continuously being harvested you'll always be able to get more of a specific look to complete a project, whether that's antique hewn, circle sawn, or vintage barn wood.
Rustic definitions: Love the feel and warmth of wood paneling, but want a modern aesthetic? See our tips here to add chic touches to your wood interiors.
There's No Need to Wait or Delay with Northern Log Supply
As you start on your next wood building project — whether that includes stained wood paneling for your home or log railing supplies for commercial property — Northern Log Supply offers assistance with installation. With our in-state lumber sourcing, in-house production facilities, and commitment to quality and communication, you'll be able to keep your project on schedule and enjoy the benefits sooner.
Contact us today to learn how we can help you with your next log home project. We're here to help you build your vision.