Why Spring is the Best Time to Build a Log Home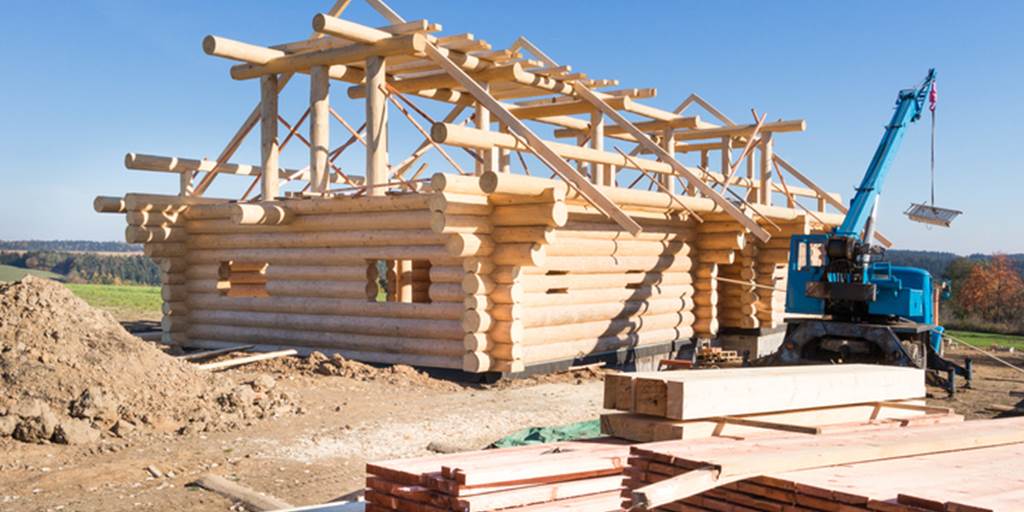 From extended daylight hours to warmer temperatures, many reasons stack up in favor of springtime build starts. 
While enthusiasts will rightly say there's no wrong time to start building your dream log cabin, it's clear that the best time to build a log home is in the spring. 
Spring, of course, is nature's signal for regrowth and rebirth. After battling frigid weather conditions and hectic holiday seasons for several months, many are ready to start dreaming of new projects and challenges as the snow and chill recede. It's a time for new starts and new beginnings; what better way to start anew than with building the home you've been dreaming of?
The decision to build any house isn't one to arrive at lightly. There will be challenges and frustrations along the way, just as there will be moments of fulfillment and success as you see your plans and vision start to take hold. By finding the best time to build a log home, you'll be able to correctly align construction planning to cut down on some of the former and hopefully increase the latter.
Construction is about planning, making decisions, and scheduling. By electing to begin construction, or major remodeling or exterior projects, in the spring you'll be able to enjoy some benefits to the process. And you won't be alone. According to the U.S. Census Bureau and the U.S. Department of Housing and Urban Development, the average time to build a home in the United States is approximately seven months. With that in mind, a majority of home builds aim for that spring season to begin construction, with an end goal of completing the process before year's end. For example, in the Midwest, March and May ranked as the first and third most popular months for the issuing of building permits. 
What makes spring the best time to build a log home? We highlight some of the specific reasons below.
Experience what Northern Log Supply delivers: Get a look at our work with this exquisite Wisconsin log home. 
Spring into Building Early in the Year
By electing to embrace a spring building start, you'll be able to take advantage of several circumstances that align with starting your project at that time of year. While many of these aspects will be applicable no matter your location, it should be noted that the specifics of your location and climate will also impact the best time to build a log home.
Get Ahead of the Rush
By aiming for a spring start, you can use the preceding weeks and months (winter) to finalize floor plans, approve and select the kind of wood to be used, line up suppliers, and tweak smaller but meaningful details. When spring hits, your construction team can hit the ground running.
By starting in the spring you can also get your project on the books for general contractors and builders, and all the various subcontractors that may be used in the project. Summer is typically the busiest time of year for many construction professionals; the later your build begins the more likely you'll run into delays due to backlogs.
Increased Focus on the Build
With a spring build start, you have fewer distractions and potentially fewer disturbances to sort through. The holiday season is in the rear-view window and the summer vacation season with no school is months away. Spring is the sweet spot to focus on major projects, be it a full building construction, a wedding barn, or other impactful renovations. 
Your building team will also have more capacity for additional focus in the spring. Builders will have fewer ongoing projects during this season; you'll get a higher level of attention without many of the weather delays that can bog down a project that broke ground during the winter. 
Better Weather and Working Conditions
It's true that spring rains can slow down projects, and mud can cause delays in setting foundations or hauling in materials. The tradeoff, however, is that by starting a build in the spring you and your team will be able to take advantage of other aspects of the weather. 
Daylight hours will grow as the season unfolds, leaving more time to get work done each workday. Temperature ranges will fall somewhere between the cold of winter and the blistering heat of the summer; this makes spring the best time to take on large-scale outdoor projects. 
Extend Your Building Season
Perhaps the biggest reason why spring is the best time to build a log home is the versatility it allows in the completion of the project. Your builders will be able to use many of the best work months of the year and, if needed, extend the work window into the summer and fall. 
This gives the project time to deal with delays or changes, and still have ample time to finish the project before the onset of the next winter. If your log home is particularly large, complex, or elaborate, then construction won't have to be rushed to complete if it started early in the calendar year. If you need to swap out finishes or design elements, you'll have the wiggle room to do so. Even the best-planned builds encounter some setbacks, delays, and potentially unexpected costs. 
Make Northern Log your natural wood partner: We can pre-engineer and pre-build our residential wood products to your specifications, which means easy installation for you.
We Help You Find the Best Time to Build a Log Home
Northern Log Supply is a family-owned lumber mill headquartered in Mayville, Michigan and we have sourced, designed, and built log cabin structures for over 20 years. Our expert craftsmen create timeless paneling, railings, log siding, and many more custom and milled wood products to ensure your home is as beautiful as it is durable.
As you start to build your home, we'll guide you along the way. We are here to help make important decisions: pine vs. cedar log siding, butt and pass vs. saddle notch corners, and all the other exciting details that go into building your dream home or cabin.
From offering feedback and insight in the design process to delivering materials and enhancements and helping in installation, we're the partner you need to make the building of your log home or cabin a seamless process. 
Contact us today to learn how we can help you with your next log home project. We're here to help you build your vision.