5 Ways to Implement the Distressed Wood Look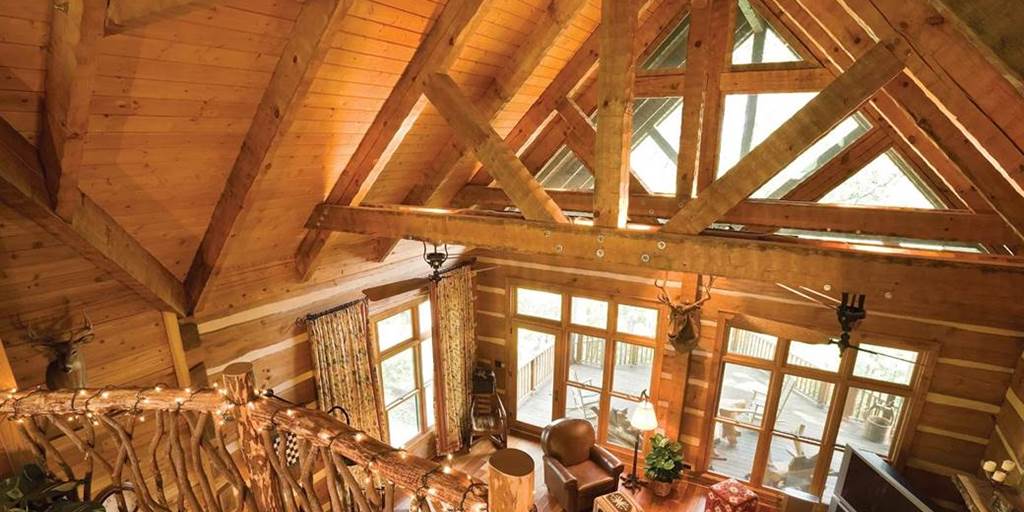 Explore options for more rustic potential by using distinctive Weathered Wood 
A distressed wood look isn't just for an old farmhouse or a country-style interior any longer. The use of old-looking wood — be it reclaimed, distressed, or weathered — has emerged as a key factor in exterior and interior decorating trends in recent years. Even in new construction, more people are seeking homes and features with warmth, character, and style versus a more sterile approach with completely unblemished finishes and materials. 
Using products that have, or mimic, a distressed wood look is a sure way to add personality and a weight of history to a space. Texture and weathering add depth that can't be matched by new, glossy materials. Even if not the predominant aspect of a new construction or remodel, worn wood can act as a captivating focal point in a modern home. It allows you to add a splash of color, texture, and a lived-in feeling to a space that may also be outfitted with all the latest amenities and technology. For example, even kitchens — once a nearly exclusive realm of stainless steel appliances and glittering countertops — are embracing more natural wood elements including some all-wood designs. 
At Northern Log Supply, we believe in the beauty and power of natural wood products made from high-quality lumber harvested from the forests in our home state of Michigan. Now, with our Weathered Wood line, we offer wood that has all the character, saw marks, color, and charming touches of distressed or reclaimed wood with none of the issues — such as inconsistent supplies, curling, crooked boards, or exposure to insects or decay.
Today we'll examine the best ways to put Weathered Wood to work for you by noting the places where a distressed wood look provides the biggest visual impact.
Weathered & Wonderful: Take a deeper look into our Weathered Wood line, including specific cutting marks used and different styles.
5 Places to Consider the Distressed Wood Look
Variations in color and grain are natural characteristics of wood and can be enhanced by the application of stains. No two trees are identical and this also holds true for distressed wood as well. It's part of the charm. But without uniformity, you might wonder how to best use such distinctive pieces. Here are five suggestions of how and where to utilize worn wood.
External Siding
Whether you're looking to create the look of an old farmhouse or seek to recreate a vintage ranch house feel, distressed wood as a replacement for traditional siding gives your exterior a time-worn appearance to make it stand out. With Northern Log's Weathered Wood, adding a distinctive exterior — or using such elements to create memorable decks, porches, and other outside spaces — has never been easier with installation-friendly touches like tongue & groove functionality, blind nailing, and butt ends that are square-end matched for minimal waste. 
Wall & Ceiling Paneling
Incorporating a distressed wood look inside your home opens the door to nearly limitless possibilities. For instance, distressed or aged beams — with warm colors — can add depth and detail to vaulted or cathedral ceilings. As wall paneling, distressed wood represents a tangible history, including color variations, nicks, and cut marks. You can even mix distressed wood with other wood paneling options; combining shiplap & nickel gap, or board & batten, with distressed wood gives you a complete palette for designing a space all your own. 
Flooring
Natural wood floors have been a mainstay for interior designers for a long time, and for good reason with the warmth, color, texture, and grain they can bring to your home. Distressed wood, properly sanded and sealed, embodies the rustic country aesthetic and offers a way to add strong characteristics to rooms big and small.
Accent Pieces
The list of possibilities here is long and diverse. Adding a distressed wood look to an accent wall, or wall inlay makes a room or space pop. Kitchen cabinets are a natural choice for such materials, and kitchen islands/butcher blocks make great use of the variety of colors available when working with distressed, or aged wood. Here are more possibilities:
Functional or decorative shelving
Furniture, such as a coffee table
Countertops
Framing
Mantle
Stair treads
Bathroom Vanity
Interior 'barn' doors
Commercially
While so far we've discussed mostly residential uses for implementing distressed wood, the commercial viability of this material is just as strong. Using Northern Log's Weathered Wood and expert installation techniques, you can also add character and charm to many business spaces.
You can employ worn wood to convey the age and history of a long-running restaurant. Distressed wood is a natural fit for a barn wedding venue or similar outdoor gathering space, like a pavilion. Even amusement parks can benefit from weathered wood — from beams and timbers for vintage roller coasters to character-adding touches for eateries and public spaces on site. 
Locally-sourced Wood Matters: Northern Log Supply uses the forests of our home state of Michigan for the bulk of our products. Why? Learn more here. 
For that Distressed Wood Look, and More, Turn to Northern Log Supply
Our Weathered Wood line of products provides the aged, natural look of worn wood — with handcrafted distressing, weather checks, and antique-styled cutting marks — but on products made from 100% new pine lumber.  This specialty wood line comes with the appearance you want, and none of the concerns about durability due to previous exposure to pests, mold and mildew, or rot and decay. Because it's new lumber that is continuously being harvested, you'll always be able to get more of a specific look to complete a project.
As you start on your next wood building project, remember that Northern Log Supply offers assistance with installation. With our in-state lumber sourcing, in-house production facilities, and commitment to quality and communication, you'll be able to keep your project on schedule and enjoy the benefits sooner.
Contact us today to learn how we can help you with your next natural wood construction project. We're here to help you build your vision.