4 Strengths of Pine Log Siding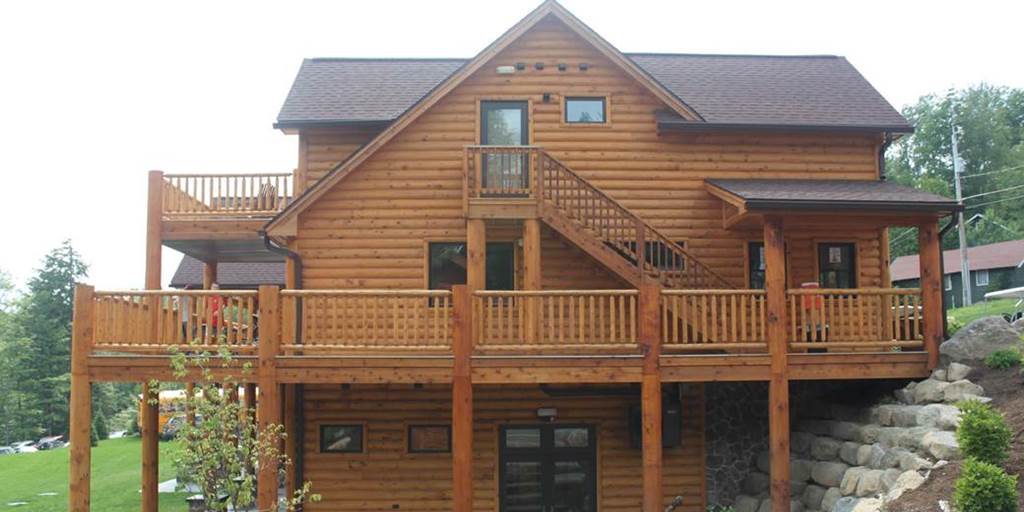 Beauty, durability, and versatility are hallmarks of this traditional material. 
When it comes to distinguishing characteristics, log siding products offer commercial developers and homebuilders the variability and options to imbue any project with their own vision and sense of style. Pine log siding has emerged as the top choice for those embracing a certain aesthetic without compromising on the traits that make natural wood one of the more popular siding choices available today.
Choosing the right exterior cladding for your home — or commercial property — needs to account for many factors. You want a siding that brings your vision and dream to life but also provides comfort and resiliency to the elements. Pine log siding checks all the boxes, from rustic charm and affordability to resistance to warp and rotting.
Today we'll examine some of the benefits that come from using pine wood siding. At Northern Log, we provide log siding in a wide range of sizes and styles — complete with pre-finishing or staining options capable of finding just the right hue or tone for your project.
More of a Do-It-Yourself Type?: Take a step-by-step approach to learning what you'll need to install log siding yourself, and how to do it. 
Checking the Benefits of Pine Log Siding
Natural wood products make for the ideal choice for siding. They add beauty to the exterior of your home and help make your residence more inviting with sound deadening and thermal mass properties. We've touched on the benefits of building with eastern white pine before and many of those apply equally to the use of the material as log siding. Eastern White Pine remains one of the most widely utilized wood sources for construction in the US and has stood the test of time for a variety of factors. 
Appearance
Ranging from a creamy white color to a warm, golden yellow, pine wood darkens with age. When used for log siding, pine imbues your home with character and rustic charm through that gradual shift. A straight, even, grain pattern also helps pine wood stand out and adds to a sophisticated look.
Durability
While pine log siding is often compared as a more affordable option compared to cedar, it stands on its own merits as a suitable durable option for a log cabin or home construction. Pine typically doesn't shrink or swell as much as other species in environments with humidity or temperature variations and white pine has the least amount of radial shrinkage of any wood species used as an engineering material. 
Versatility
The uniform texture of pine wood mills easily and holds finishes well. This makes pine a great fit for exterior and interior log siding, accent pieces, decorative elements, paneling, doors, and much more. For more variety, pine log siding is capable of coming with a smooth finish, or a hewn (peeled log) look for more rustic charm. If you prefer a plank appearance, wavy edge bevel siding gives you more flexibility. 
Availability
White Pine grows across eastern North America, is abundant in Michigan, and is among the first trees to mature in a developing forest. Pine can be harvested, replanted, and harvested again much quicker than other alternatives like oak and cedar. All of this makes pine a sustainable crop and a highly renewable wood resource. Because of this wide availability, pine log siding cost less to harvest and ship. 
Create Your Vision: From wood type, cut style, and joints, learn how to choose the perfect elements for your log home or cabin.
Northern Log Provides Perfect Pine Log Siding
Northern Log Supply sources our wood products — from log siding and paneling to trusses and trim — from the woods in our home state of Michigan. Our skilled craftsmen, working at our family-owned lumber mill headquartered in Mayville, Mich., are involved in the entire process and deliver high-quality products without a middleman or markup. 
Because of this process, we're able to sidestep many of the long lumber lead times that are hampering many other suppliers. We're able to deliver log siding products, including paneling, in less than a month. Many of our options come in as little as two or three weeks. We partner with the top wholesale distributors of specialty lumber and building materials across the country. Our products are shipped straight to you via our own fleet of trucks and trailers, streamlining logistics. 
As you start to build your log cabin or home, or commercial project, we can offer assistance with installation.  With our in-state lumber sourcing, in-house production facilities, and commitment to quality and communication, you'll be able to keep your project on schedule and enjoy the benefits sooner.
Contact us today to learn more about our pine log siding and other wood products. We're here to help you build your vision.