6 Wood Bathroom Design Ideas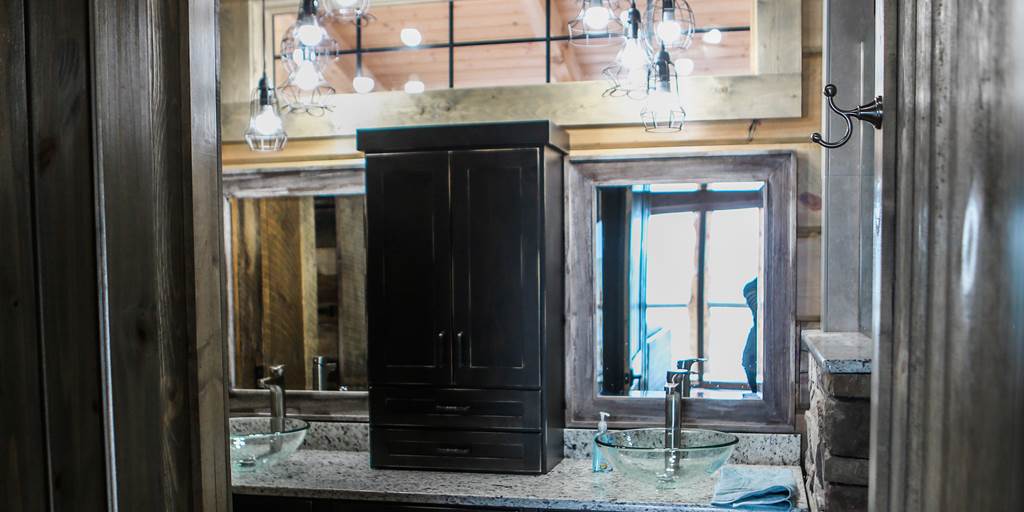 Bathrooms are often comparable to kitchens when it comes to creating value and enjoyment in your home—you not only want it to look nice and clean but also feature today's modern touches and amenities. When designing or remodeling your bathroom, the use of wood, like pine or cedar, has been a popular trend among homeowners and commercial property builders alike.
As with any other room in your house, high quality wood can instantly turn your bathroom into a warm and cozy retreat. Just think of taking a bubble bath surrounded by cedar log siding or taking a mirror selfie with a shiplap backdrop.
Whether you're planning for a luxurious master bathroom or want to spruce up a powder room, there are many different ways you can incorporate wood elements into your bathroom. Check out our gallery below to see some of the best wood bathrooms our customers have built, showcasing a variety of vanities, tubs, showers, and more.
Cozy Bathroom with Log Siding
When you walk into this cozy bathroom, you can instantly feel the warmth of Northern Log's 2x8 pine log siding that's been pre-stained chestnut. To the right is a vessel sink that sits on top of the bathroom countertop and a circle mirror on the wall. A large standing shower is on the left. Pine D-trim completes the full log look of this bathroom.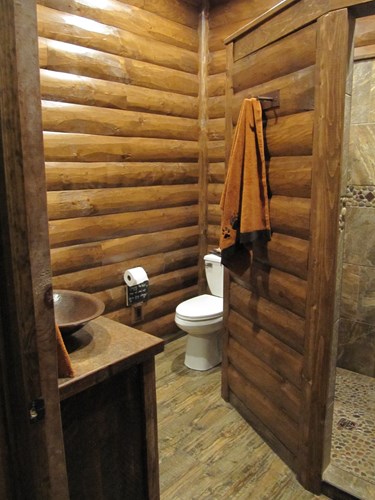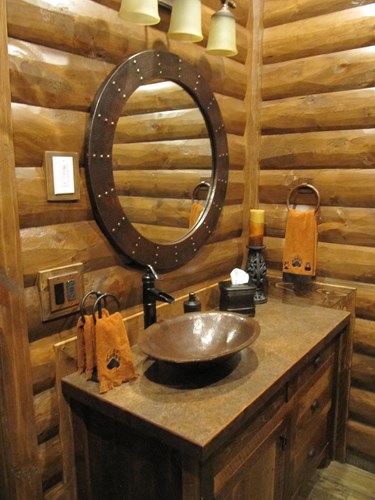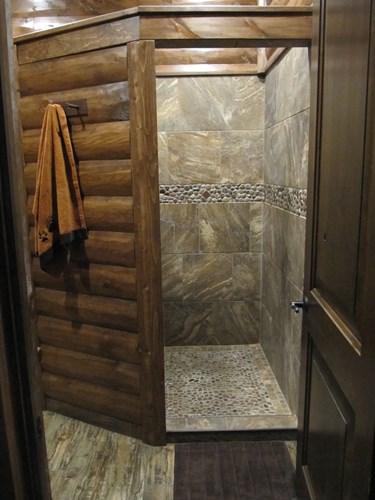 Master Bathroom with Flare Bottom Trees
This large master bathroom is the perfect escape after a long day. The 3x8 hand hewn pine log siding is bright and welcoming and has a hand-peeled look that gives this bathroom its beautiful, natural ambiance. Now, if that doesn't make you feel like you just stepped into a spa, then the gigantic soaking tub and separate standing shower will.
Additionally, there are several flare bottom trees used throughout the bathroom. Perhaps most notable is the flare bottom tree used as the sink base. Another one is positioned perfectly next to the bathtub, so you have a dry place to put your book (or glass of wine!) when you're taking a bubble bath.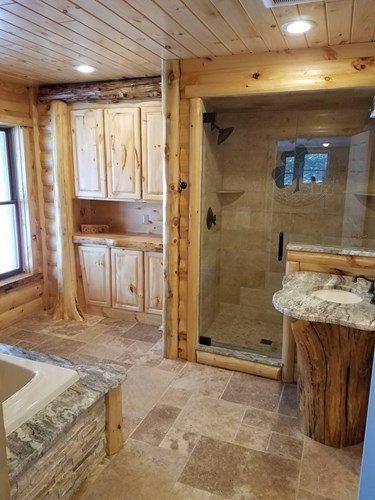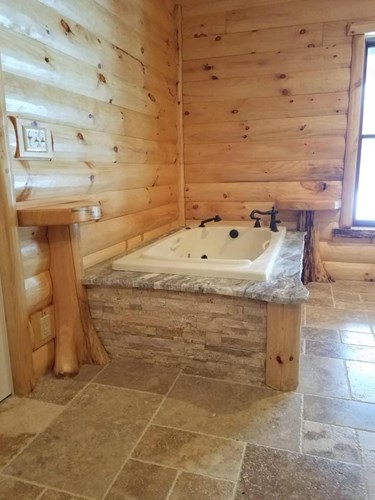 Lake House Bathroom
Imagine coming in from a day at the lake to rinse off in the shower in this gorgeous lake house bathroom. As shown below, this bathroom features a double sink vanity with hanging light fixtures that immediately draw you in. A mixture of barn wood siding and stone accents are used to give this bathroom its modern, rustic look.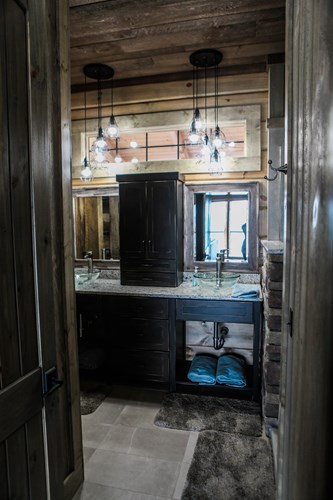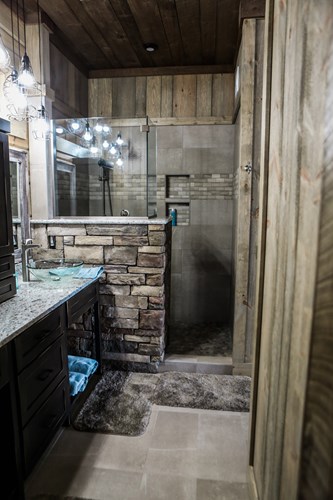 Rustic Barn Wood Powder Room
This powder room features Northern Log's circle-sawn barn wood in weathered red. The circle-sawn texture is created by sawmills leaving circular blade markings on the face of the board to create a rough texture in the graining patterns. Adding to this bathroom's rustic charm is cowboy steel wainscoting and a steel mirror and wash tub.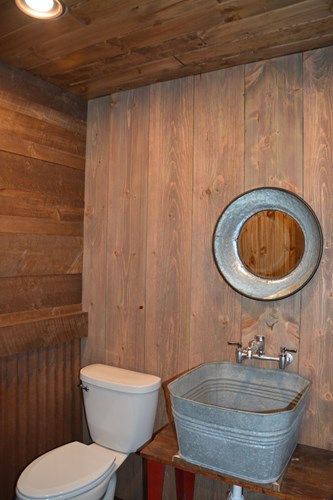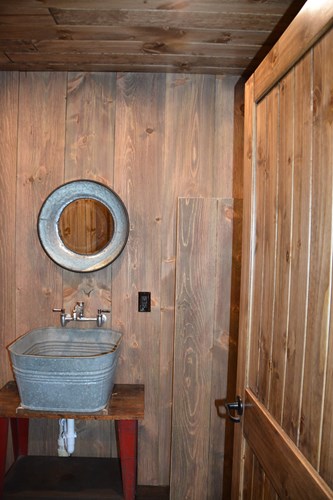 Shiplap Bathroom
Fans of Chip and Joanna Gaines will want to pay special attention to this bathroom. These bathroom walls feature Northern Log's 8" shiplap in weathered grey. A white sink and vanity complete this bathroom, giving it a simple, natural look.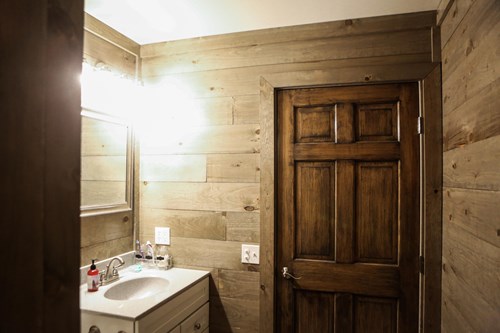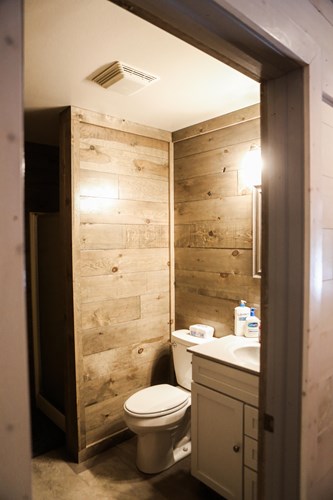 Commercial Restroom
Northern Log regularly provides cedar and pine timbers, log siding, and barn wood for construction companies, contractors, and commercial property owners. Such was the case for the 4-H Leaders Building project in Caro, Michigan, which included two restrooms. The women's restroom (shown on the left) features Northern Log's 8" whitewash shiplap, while we installed tongue and groove paneling in the men's room (shown on the right). For a touch of rustic charm, both restrooms have silver saddle steel wainscoting.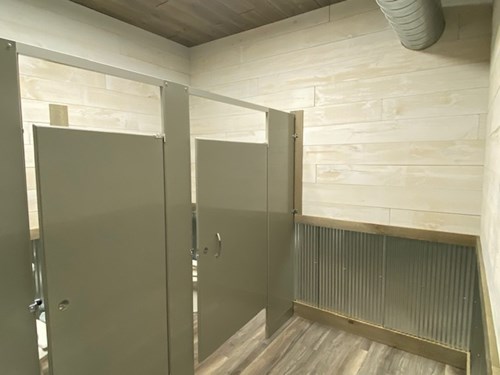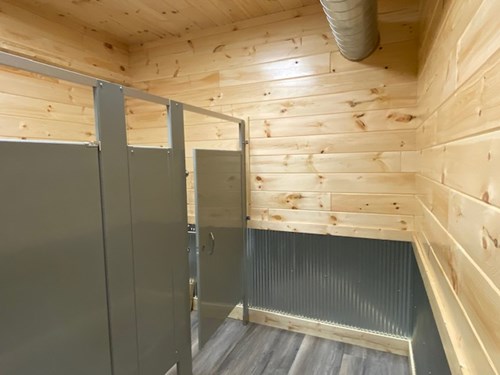 Protect the Wood in Your Bathroom
While some may think that it's counter-intuitive to install wood in a room that's susceptible to moisture and humidity, it can actually be ideal for nearly any location—wet or dry—if the proper precautions are taken.
You'll want to make sure that the wood is fully sealed on all four sides—even the ends that aren't exposed. Northern Log can pre-finish or pre-stain your wood to ensure that it has the properties necessary to protect and preserve it for many years to come.
Additionally, if wood paneling is used on the walls or ceiling in a bathroom, especially one with a bathtub or shower, be sure to install a fan for ventilation. This will help protect the wood from warping, as well as prevent mold or mildew from growing.
Design Your Dream Wood Bathroom
As you can see, there are many different styles to consider when remodeling your bathroom or building one from the ground up. Whether you choose a modern or rustic look, we can help you create a natural ambience with our wood products, sourced from Michigan. From shiplap walls to a wood paneling ceiling or something more custom, we have a variety of log styles and wood stain colors to help create your dream bathroom. Contact us today for advice on selecting the right wood, finish, and features for your wood bathroom.