Add Distinctive Appearances with Custom Wood Facilities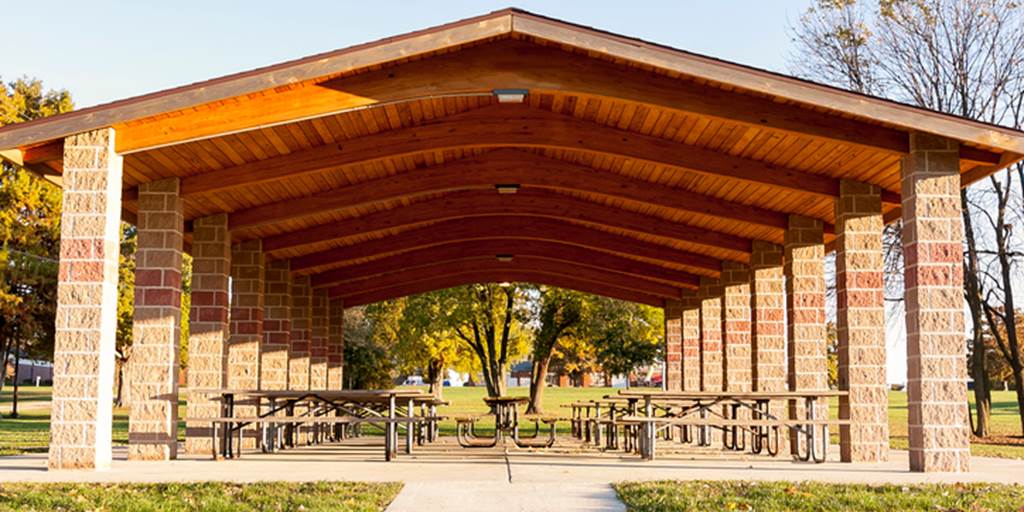 Explore the many options available with natural wood for restaurant decor, pavilions, and any other gathering space. 
Custom wood facilities can add elegance and beauty to nearly any setting, from rustic barn wedding venues to charming eateries and pavilions of all kinds for outdoor gatherings. You can even use natural wood elements for added panache for amusement park rides, walkways through outdoor conservatories, or any other space where you want memorable touches.
Today we'll examine some of the common commercial elements where custom wood facilities have added new looks, new functionality, or simply improved the feel of the spaces in question.
Make Northern Log your natural wood partner: See everything we can bring to your commercial construction project. 
Add Beautiful Touches for Your Barn Wedding Venue
Realize a perfect barn wedding venue complete with the ideal and charming rustic feel, with the best materials on the market. Want white-washed cedar? We have it. How about heavy timbers to accent the architecture? We can do it. 
Barn wedding venue kits and materials will give you everything you need to build the ideal setting for weddings, dances, and other events. Selections of circle-sawn and weathered barn wood come in multiple pre-finished options to get a contemporary modern rustic look without the curling, dirt, or insects of reclaimed wood. Our distressed barn wood is hand-crafted from the highest quality pine wood, direct from the forest. You can also use shiplap and nickel gap for both interior or exterior siding for your barn to add more character and individuality to the venue. 
See how it all comes together: Learn how Northern Log helped build this wedding barn project in Michigan. 
For Thrills or Chills, Custom Wood Facilities Work at Amusement Parks
It may not be the first thought for most, but stylized and custom wood products are implemented heavily in amusement parks across the country. The most eye-catching of those design choices can be found in the mighty wooden roller coasters that are still in operation at many parks across the country. But be it railings or walkways, pavilions or picnic areas, or finishing touches at restaurants and eateries, wooden amusement park supplies are in demand. 
If you're in need of custom wood facilities in this environment you'll want a partner, like Northern Log, which has a long history of guaranteeing both expert craftsmanship and a positive experience for your guests. Bring any park design to life with pre-engineered and easy-to-install products that range from siding for buildings to railing for walkways, and even the trusses and posts used in ride design.
New to truss design? Learn about the many kinds of trusses you can use to add style or support. 
Use Wood to Add New Life to Your Favorite Eatery
High-quality natural wood can inject vibrant new touches into restaurant decor. With experience in dealing with chain establishments, long-time favorites, and local hangouts, Northern Log is able to provide the supplies needed to pull off any wood-infused restaurant design.
From heavy timber accents to engaging and beautiful truss systems, and weathered barn wood, tri-color nickel gap, and log siding, the options are nearly endless in adding distinguished and unique looks to your wooden restaurant setup.
New Look for a Local Legend: See how Northern Log helped this 100-year-old restaurant keep its 'Old American' look, with a modern flair. 
Kitting Out Recreational Setting
If you need an easy-to-install outdoor shelter house, pavilion, or picnic area, Northern Log's wood pavilion kits excel in adding distinctive elements to any park, campground, zoo, or other outdoor settings where people gather. Using heavy timber trusses and beams to create a strong and structurally sound element for your facility, you'll also gain a visually appealing covered outdoor environment. 
Using outdoor pavilion kits, you can create large covered walkways for zoos and other wildlife observation areas. The natural wood-building elements will be at home in visitor and event centers for campgrounds, national parks, and hiking trail hubs. Of course, the standard pavilion or picnic shelter is perfect for hosting celebrations and get-togethers in any community park. 
See the Northern Log difference: Learn why a summer camp in upstate New York chose Northern Log to renovate its custom wood facilities. 
Design Stunning Custom Wood Facilities with Northern Log Supply
Northern Log Supply is a family-owned lumber mill headquartered in Mayville, Michigan. We help our commercial clients create special environments and spaces with the beauty of all-natural wood, all locally sourced from the woods of Michigan and worked by our craftsmen. Northern Log provides you with high-quality wood without the middleman; We control the entire process from harvesting to final delivery anywhere in the U.S.
Contact us to discuss your specifications for pavilions, amusement park spaces, barns, restaurants or any other custom wood facilities. We're here to help you build your vision.