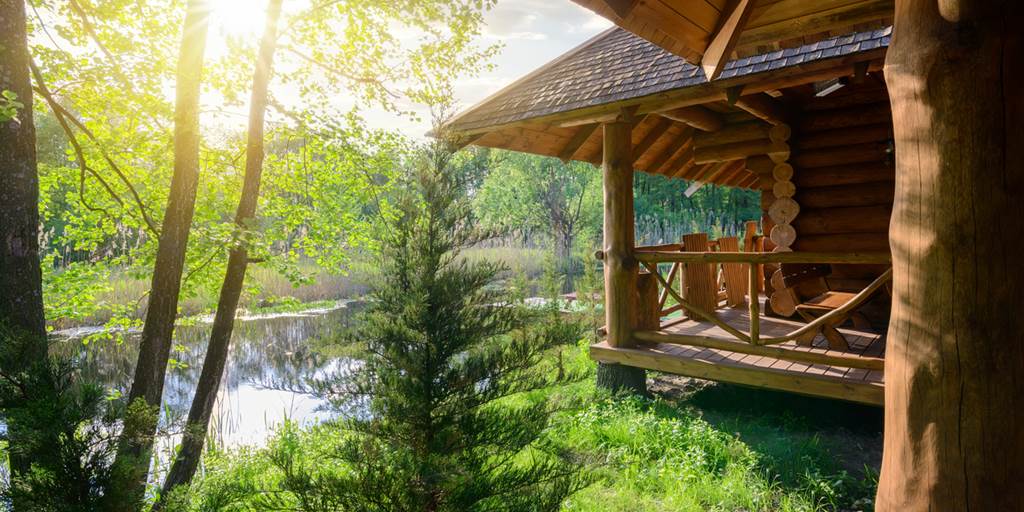 Who wouldn't want a log cabin to retreat to on a chilly winter night or a sunny summer afternoon? These iconic structures continue to grow in popularity as manufacturing capabilities and building procedures are improved and modernized. Despite these incredible technological advances, though, many still feel like owning a log cabin is out of reach.
At Northern Log Supply, it is our mission to help educate people on the ins and outs of what goes into building a log cabin, and how it isn't as "impossible" as you may think.
If you have always thought about owning a log home of your own, there are a few things to take into consideration when planning, designing and building the cabin of your dreams. We've compiled a helpful guide to walk you through the process. Let's get to work!
Design Considerations
There are multiple different approaches to building a log cabin, each of which will affect the final product. Will you opt for a true log construction or a timber-frame log cabin? What kind of lumber should you use and where? What kind of styling are you partial to – rustic or modern?
The first question to ask yourself is: what is going to be the primary use of this structure? Do you want to spend long nights out on the patio? Do you want your kitchen to be the centerpiece of the home where friends and family can gather? There are a lot of things to consider, but here are the basics:
Layout
When plotting the layout of your log cabin, you will want to have an idea of how you plan to use the building, as well as structural tips and tricks to protect your cabin from environmental wear and tear.
If you want to build a small hunting lodge deep in the woods, a smaller, more rustic layout with a fireplace will offer plenty of comfort on those cold winter nights. If you are hoping for more of a family getaway style home where you can easily relax with the kids for a week or two, then a more spacious, modern timber-frame design may be a better fit.
At Northern Log Supply, our experienced craftsmen have built some of the finest log homes in the country and understand that one-size doesn't always fit-all. It is important to work with a builder who knows your goals and has the knowledge and expertise to develop a design that is right for you.
Type of Wood
When it comes to building, not all wood is created equal. Typical stick-framed type homes are designed with the lumber concealed underneath waterproofing and siding, which gives designers more flexibility in which type of softwood they use. Spruce is commonly used for walls in these types of homes but wouldn't be a good choice for your log cabin.
While spruce is structurally a very sound wood to use, it doesn't hold up to moisture well. Rather than build with a wood that is going to rot out, you need to choose something that will withstand the conditions for the years to come.
A knowledgeable lumber supplier can be a lifesaver to help avoid some of the potential pitfalls that come with using exposed wood. Northern Log Supply offers only the most resilient species that can stand up to the harsh conditions, like douglas fir and cedar wood.
Not only are these types of wood extremely durable, but they are also particularly resistant to moisture – making them the lumber of choice for many first-time cabin builders.
The types of wood and materials that you use have not only structural implications but stylistic ones as well. If you are looking for a rustic log cabin you might like barn siding, stone and rusted metal. If it is a modern log cabin you're after, light-stained cedar shakes and geometric stonework offer a lovely contemporary take on the wooden ambiance.
Style
Many first-time cabin builders can feel overwhelmed at all the style options available for log cabins, but getting plans and designs for your dream home does not have to be as tricky as you may think. There are plenty of resources online to help individuals figure out exactly what it is that they want out of their log home. Our Log Looks Blog, for example, has countless articles and resources for everything from kitchen design ideas to whether you should go with shiplap or nickel gap siding on your interior walls.
Having a supplier like Northern Log Supply is going to be your best resource when it comes to creating a look and feel that you will love for years to come. We don't just sell wood. We partner with you to give you peace of mind and help walk you through every step of the process from planning to pre-engineering and installation.
Stains
When you use the right stains and finishes, you help protect your log cabin from harmful moisture, UV rays, insects, mildew, and fungus. These environmental factors can have a significant impact on not just the look of your home, but it's lifespan as well.
It is important to either properly stain your structure after installation or use pre-stained wood to ensure your cabin will stand the test of time. Northern Log supply offers interior and exterior stains as well as pre-stained and pre-finished logs to help you save time and money.
Selecting a Lumber Supplier
There are many lumber suppliers out there who are simply happy to make a sale. At Northern Log Supply, we don't simply move lumber out the door – we partner with you to make your dreams a reality. As you start to build your dream log home, you'll have a lot to consider. Pine or cedar log siding? Smooth or hand hewn logs? Butt and pass or saddle notch corners?
From selecting your dream log home style to selecting the wood to choosing the right corners, Northern Log Supply is here to help with all your log home needs. We can even help with installation! Contact us today for advice on selecting the right wood, finish, and features for your home.