Log Cabin Exterior Ideas to Add a Unique Look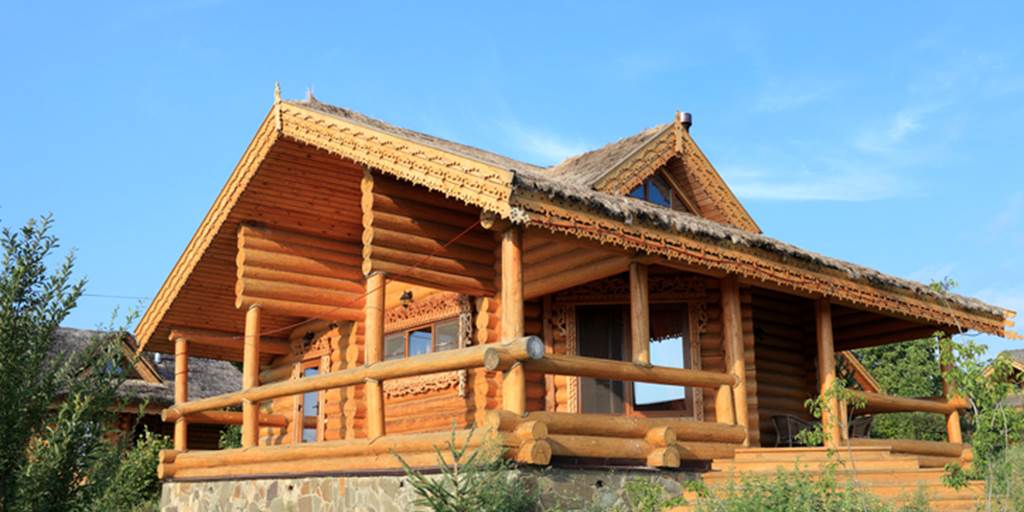 Explore the many options available with natural wood for a distinctive appearance for your home or cabin. 
Finding log cabin exterior ideas to make your home stand out may sound like a difficult proposition given the consistent look and feel of log homes. But with the right building partner, the issue won't be finding ways to add unique touches but instead figuring out which ones fit with your style and aesthetic choices. 
The demand for log and timber frame homes has steadily increased over the last decade as more and more people have found and embraced the benefits of such structures, from the energy-efficient and easily renewable nature of the materials used in construction to the durability of the finished home, and the rustic ambiance that comes using natural wood and log construction principles. 
Another benefit that many home builders have found is the ability to make the home your own with exterior choices that imprint their personalities and tastes onto the finished home. Log cabin exterior ideas aren't limited in their depth. From the shape, color, and overall pattern of the exterior, to the finishing touches, you'll find no shortage of ways to customize your home to achieve the exact look you want.
The right exterior can elevate the look and feel of any property. Today we'll examine some of those log cabin exterior ideas and how moving beyond common siding options like vinyl, brick, and stucco can lead to beautiful results that capture your style and personality. 
Make Northern Log your natural wood partner: For commercial, residential, and even wholesale needs, see everything we can bring to your commercial construction project.
5 Different Log Cabin Exterior Ideas
Log Siding
The original, iconic look for a log home can be achieved with log siding, which comes with its own customization options. At Northern Log Supply, all our log siding is manufactured from locally-sourced lumber from Michigan and comes complete with easy installation in mind and numerous ways to tailor its appearance to suit your needs. 
You can choose from cedar or pine wood. There is half-log, quarter-log, or Paul Bunyan Siding(™) to give you a variety of depths and widths to select from. You can go with machined smooth or hand-hewn textures. A wide array of pre-finishing or pre-staining choices will give many options of color and hue — as well as save time and money during installation.
Using kiln-dried logs, our siding is suitable for exterior or interior design. Concealed fasteners and color-match caulk lead to a seamless experience, and our tongue and groove design and end matching mean that the final installation will be hassle-free. It all adds up to an easy-to-achieve rustic log cabin exterior.
Get a closer look: Check out our pine wood, half-log siding in this brief instructional video.
Board and Batten
A less common log cabin exterior idea is board and batten siding. Board and batten is a type of wood siding that is growing in popularity due to its versatility and customization options. This style of wood siding involves alternating wide wooden boards with narrow wooden strips — known as battens — that are individually placed side-by-side on exterior (or interior) walls in a repeating geometric pattern. The wood boards can be positioned vertically as well as horizontally.
Board and batten siding is typically crafted from either Spruce Pine or Western Red Cedar and serves as a dynamic stylistic complement to either log siding or the use of cedar shake panels. It can be used for the entire exterior to accent certain elements. It's rough sawn, so it absorbs stains and finishes well. And because each board and batten is installed individually, it's easy to replace one section at a time if needed. 
Learn more with Northern Log: Get more insight and information on board and batten siding in our blog covering the topic.
Cedar Shake Panels
When it comes to an eye-catching look and style, few log cabin exterior ideas deliver as much impact as the use of cedar shake panels and shingles. Typically crafted from Red Cedar, shake panels and shingles create a look that captures both a rustic feel and a contemporary look. The warm color of the material, coupled with any pre-finishing options, makes a statement in any location.
Cedar shake panels come with several advantages as well. Cedar is naturally durable and strong, making it a great choice for exterior siding as it is resistant to shrinking, warping, and cupping. Cedar is also known for its naturally occurring preservatives, which serve as a layer of added defense against moisture, decay, and pests. The end result is a visually-stunning log cabin exterior that will have notable resiliency for years after its initial construction.
Eager to shake out more information?: Learn more about the benefits of using Cedar Shake Panels on our blog. 
Shiplap and Nickel Gap
Often incorporated into interior designs for accent focal points, shiplap and nickel gap siding remain a viable login cabin exterior idea as well — particularly for those looking for a unique look. Capable of playing off traditional log siding or barn wood to call attention to specific elements, or as the dominant component of a home's exterior, shiplap and nickel gap siding provides rustic looks, modern twists, or classic finishes.
Shiplap siding consists of wooden boards that overlap to create a channel between boards and is installed by nailing into the front of the board. Nickel gap siding, on the other hand, has tongue and groove boards that hide the nails and has a consistent width in the gap between boards — about the size of a nickel. Shiplap is typically more rough-hewn while nickel gap has a more finished appearance. At Northern Log Supply, both can come in any of several base colors and can be pre-finished for more palette choices. 
Want to learn more? Examine the benefits of, and the differences between, shiplap and nickel gap siding here. 
Railings
It's not siding, and won't cover your structure from top to bottom, but the addition of custom cedar log railing can add to and enhance the overall look of your home or cabin. At Northern Log, all of our white cedar lumber used for railing products are hand-selected and locally produced by our team of expert craftsmen. From log cabin stair railings, deck railings, porch railing, and log spindles, all of our railing products are custom-made to meet your exact specifications. 
Available in traditional, classic, or hickory spindle styles, our cedar log railing comes in individual parts as well as pre-assembled kits — depending on your needs. If you have a large porch or deck, you can order several kits to aid in the installation speed of the project. If you need to replace specific spindles, we can help there as well. We even provide rebar railing for a modern rustic aesthetic. 
Finishing touches: Read here for more ideas on how rugged railings can add that extra element to accent your home or cabin. 
We Supply the Log Cabin Exterior Ideas to Make Your Property Stand Out
Northern Log Supply is a family-owned lumber mill headquartered in Mayville, Michigan. We help our residential clients create special environments and spaces with the beauty of all-natural wood, all locally sourced from the woods of Michigan and worked by our craftsmen. Northern Log provides you with high-quality wood without the middleman. We control the entire process from harvesting to final delivery anywhere in the U.S.
Contact us today to learn how we can help you with your next log home project. We're here to help you build your vision.